»

Recipes

»

Sauce

»

Spicy Tomato Chili Barbecue Sauce
Spicy Tomato Chili Barbecue Sauce Recipe
Have you ever tried this wonderful Spicy Tomato Chili Barbecue Sauce? I often make it for my barbecued meat preparation and trust me they are great! Try making this Spicy Tomato Chili Barbecue Sauce for yourself and you will understand why I am so addicted to it!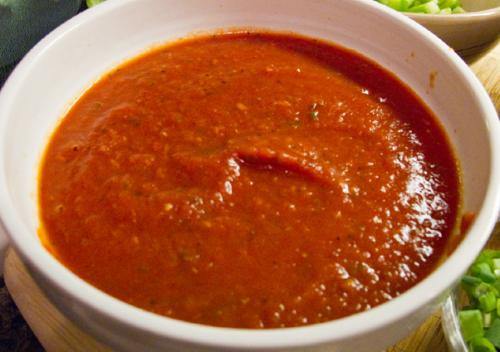 Ingredients
Tomato ketchup

1⁄2 Cup (8 tbs)

Orange juice

1⁄3 Cup (5.33 tbs)

Worcestershire sauce

1⁄4 Cup (4 tbs)

Dark brown sugar

3 Tablespoon

Chili powder

2 Tablespoon

Garlic cloves

1 Large

, peeled and crushed

Lemon

1 Large

, ends removed and thinly sliced

Cinnamon stick

1
Nutrition Facts
Serving size: Complete recipe
Calories 555 Calories from Fat 46
% Daily Value*
Total Fat 5 g8.4%
Saturated Fat 0.95 g4.7%
Trans Fat 0 g
Cholesterol 0 mg
Sodium 1817.6 mg75.7%
Total Carbohydrates 130 g43.3%
Dietary Fiber 15.5 g62%
Sugars 89 g
Protein 6 g11.1%
Vitamin A 182.9% Vitamin C 225.6%
Calcium 24.4% Iron 49.4%
*Based on a 2000 Calorie diet
Directions
Combine all the ingredients in a small saucepan and bring the mixture to a boil over medium-high heat.
Reduce the heat to medium-low, partially cover, and simmer for 25 minutes, stirring occasionally.
Strain if desired, or use with lemon slices for basting.