»

Recipes

»

Indian

»

Punjabi

»

Spicy Mutton Curry
Spicy Mutton Curry Recipe
Spicy mutton curry, rich in colour can be eaten with paratha or hot steamed rice.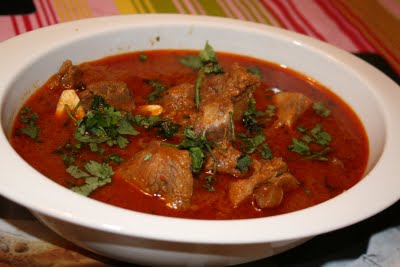 Recipe Story
Its a traditional mangalorian curry, which is done with a slight variation,easy to cook, and taste delicious..
Ingredients
Mutton

500 Gram

Onions 2 finely chopped(if u need more gravy u can add 1 more)

Tomatoes 2 finely chopped

Garlic – ginger paste

2 Tablespoon

Oil

Bay leaves

2

(whole spice:)

Cloves

4

(whole spice:)

Cinnamon stick

1 inch

(whole spice:)

Fennel seed 1tsp (optinal)

Star anise 1 (optinal)

Peppercorn

5 To taste

(whole spice:)

Turmeric powder

1

(Spice Powders:)

Red chilli powder 2 tbsp(depending on the spice required)

Coriander powder

2

(Spice Powders:)

Salt

To Taste

(Spice Powders:)

Corriander leaves for garnish
Directions
Method:
Heat oil in a kadai ,add in the onions and cook till they become soft, then add in the tomatoes and cook till they mash well, make a fine paste of it and keep aside.
Heat oil in a pressure cooker, and add in the whole spice and curry leaves fry for a minute, then add in the onion -tomato paste, cook for about 2 minutes, the add in the ginger garlic paste and fry till the raw smell disappear,then add in the mutton and cook for about 5 mins,add in all the spice powder to the mutton,cook for another 5 minutes ,then add in half a cup of water,stir well, close the lid and cook till the mutton is done, it requires atleast 4 whistles, remove from the heat and garnish with corriander leaves.

Anonymous says :
check your spelling man!!
Posted on:
18 March 2012 - 11:41pm

Anonymous says :
plz specify the spice powder is it garam masala powder
Posted on:
24 October 2009 - 9:40am

Garam masala powder can also be added instead of all spice powder
Posted on:
26 November 2009 - 9:55am