»

Recipes

»

Muffin

»

Spicy Corn Muffins
Spicy Corn Muffins Recipe
Spicy corn muffins are made with cheddar cheese and frozen corn. These wonderfully savory muffins have a kick in thir flavor from corn. Bake it up and enjoy this spicy and snacky muffin.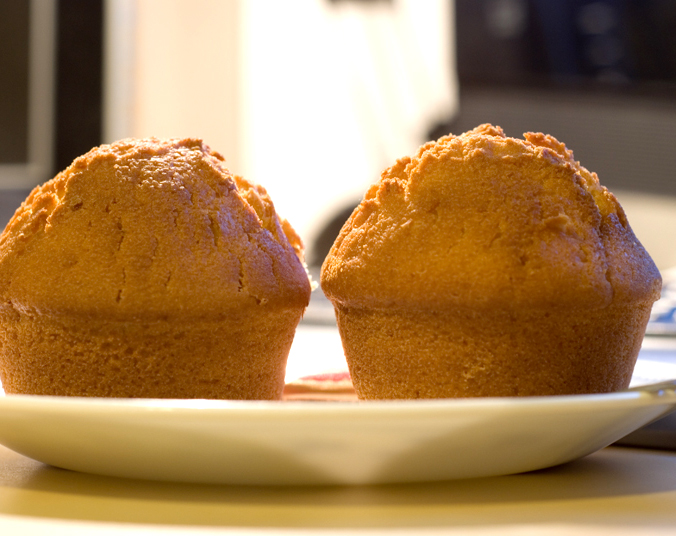 Ingredients
Eggs

2

Milk

3⁄4 Cup (12 tbs)

Corn muffin mix packet

2

Shredded cheddar cheese

1 Cup (16 tbs)

Frozen corn

1 Cup (16 tbs)

, thawed
Nutrition Facts
Serving size: Complete recipe
Calories 903 Calories from Fat 483
% Daily Value*
Total Fat 54 g83.2%
Saturated Fat 30.7 g153.6%
Trans Fat 0 g
Cholesterol 561 mg
Sodium 940.8 mg39.2%
Total Carbohydrates 52 g17.4%
Dietary Fiber 4.3 g17.1%
Sugars 15.2 g
Protein 48 g96.4%
Vitamin A 53.2% Vitamin C
Calcium 106% Iron 14%
*Based on a 2000 Calorie diet
Directions
In a small bowl, lightly beat together eggs and milk.
In a large bowl, combine muffin mix, cheese and corn.
Stir in milk mixture and stir just until blended.
Batter will be lumpy.
Let stand for 5 minutes.
Spoon batter into prepared muffin tin, filling cups to the top.
Bake in preheated oven for 20 minutes or until golden brown.
Image Courtesy :
http://www.flickr.com/photos/chippycheeky/3183622497/