»

Recipes

»

Indian

»

Tamil

»

Chennai

»

Spicy And Juicy Madras Fish Curry
Spicy and Juicy Madras Fish Curry Recipe
This is one of my Mom's best dish. Best results will be seen when cooked in a mud pot. Nothing can beat this dish when we have this with hot hot Dosa or Idly.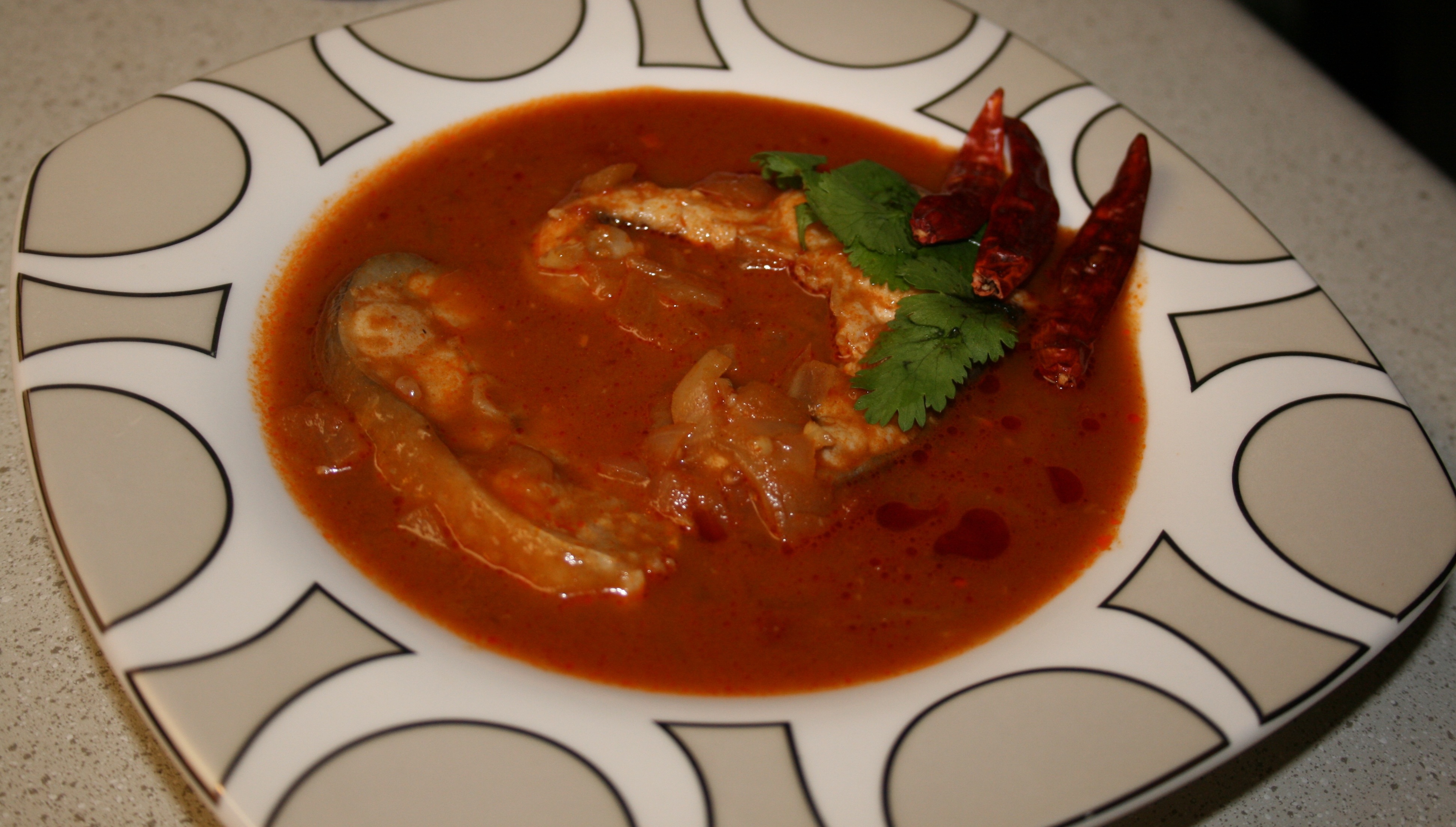 Ingredients
Fish

1 Kilogram

, cut into 1" slices (tilapia or catfish)

Vegetable oil/Sunflower/olive oi

1⁄2 Cup (8 tbs)

(prefer Sesame oil)

Onions

2

, grind to paste

Tomatoes

4

, grind to paste

Lime

1

, soaked in 1/2 cup of hot water (soaked in 1/2 cup of hot water)

Turmeric powder

1⁄4 Teaspoon

Chili powder

2 Teaspoon

Red chillies

3 Large

(fried in oil will give more spice)

Coriander powder

4 Teaspoon

(its also called as Dhaniya Powder)

Cumin seeds

1 Teaspoon

Garam masala

1 Teaspoon

Mustard seeds

1 Teaspoon

Curry leaves

15

Water

100 Milliliter

Salt

To Taste
Nutrition Facts
Serving size
Calories 639 Calories from Fat 344
% Daily Value*
Total Fat 39 g59.7%
Saturated Fat 5.2 g26.1%
Trans Fat 0 g
Cholesterol 130 mg
Sodium 342.2 mg14.3%
Total Carbohydrates 21 g7%
Dietary Fiber 6.7 g26.7%
Sugars 8.3 g
Protein 54 g108.2%
Vitamin A 48.5% Vitamin C 123.5%
Calcium 14.4% Iron 28%
*Based on a 2000 Calorie diet
Directions
Method
1. Clean the Fish with salt to take the bad odor.
2.Heat the pan and pour 3 Tbps of oil
2.Once the oil starts to boil then add mustard seeds,jeera and then add red chilli and curry leaves.
3.After a min add the grounded Onions and salt(adding salt to the onions will help it to cook fast and juicy). Fry it till golden brown and add ginger,garlic paste.
4.Once this is cooked add chopped tomato,turmeric powder,chili powder,coriander powder. Cook this mixture till oil separates. Add sesame oil for taste (this gives more flavor to the gravy)and garam masala
5.Then add the tamarind juice and some water to get the curry consistence.
6.When the gray starts to boil add the fish and cook it for 5 min by closing the lid. When the fish turns little white then it means that the fish is cooked. Dont mix the curry after the fishes are added.
7.Garnish with coriander leaves.

OK I see now, fllets. Very pretty dish! It loks like it is maybe from the wonderful Bata Porcelaine factory in Kerela near Kochi. We were there one time and the quality was amazing. They were at the time manufactoring for Royal Doulton of the UK and fr 5 star hotel service. Shanti/Mary-Anne
Posted on:
29 April 2008 - 7:47pm

Anonymous says :
Wow, like talking about yourself much?
Posted on:
31 August 2011 - 1:10am

This sounds wonderful like the fish curry I have loved in Kre(Aleppy) a our fiend'shouse. Some of the ingredients are only listed in the directions. Maybe I will make this this weekend as my little curry tree has some nice leaves! What kind of fish do you use-fillets or a whole small fish? Photo is not showing as yet. Shanti/Mary-Anne
Posted on:
29 April 2008 - 7:42pm