»

Recipes

»

Pecan

»

Spicy Pecans
Spicy Pecans Recipe
This Spicy Pecans is an easy-to-prepare snack recipe. An amazingly delicious recipe, Spicy Pecans is a dish that you would surely love to talk about with us!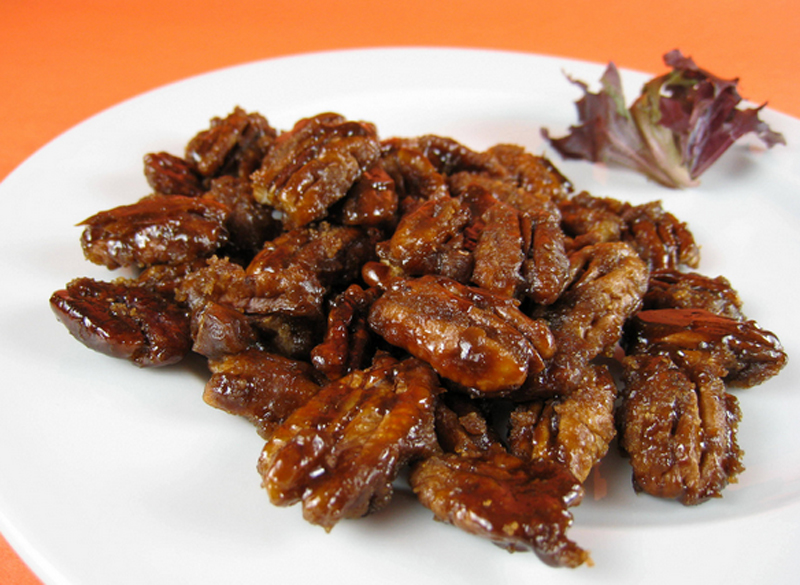 Ingredients
Butter

1 Tablespoon

Cajun seasoning

1 Teaspoon

(to taste)

Worcestershire sauce

1⁄2 Teaspoon

Pecan halves

1 Cup (16 tbs)
Nutrition Facts
Serving size: Complete recipe
Calories 1027 Calories from Fat 890
% Daily Value*
Total Fat 106 g162.7%
Saturated Fat 15.7 g78.7%
Trans Fat 0 g
Cholesterol 32.3 mg
Sodium 82.8 mg3.5%
Total Carbohydrates 23 g7.5%
Dietary Fiber 13.2 g52.9%
Sugars 7.7 g
Protein 12 g24.1%
Vitamin A 13.5% Vitamin C 6.7%
Calcium 9.7% Iron 19%
*Based on a 2000 Calorie diet
Directions
In oven proof skillet (cast iron works well) over medium heat, melt butter.
Add Worcestershire sauce and Cajun seasoning.
Add pecans and stir until well coated.
Place skillet in 225 degree oven and bake for 45 minutes or until pecans are crisp.
Image Courtesy :
http://www.flickr.com/photos/vegan-baking/3618738710/