»

Recipes

»

Spicy Noodles
Spicy Noodles Recipe
Just because you are watching what you put in your mouth don't not mean you have to skip out on the pasta. Using whole grain pasta is important to maintaining a healthy lifestyle. Fact: When red pepper flakes are used it helps speed up the bodies metabolism along with providing health benefits such as fighting inflammation and preventing blood clots.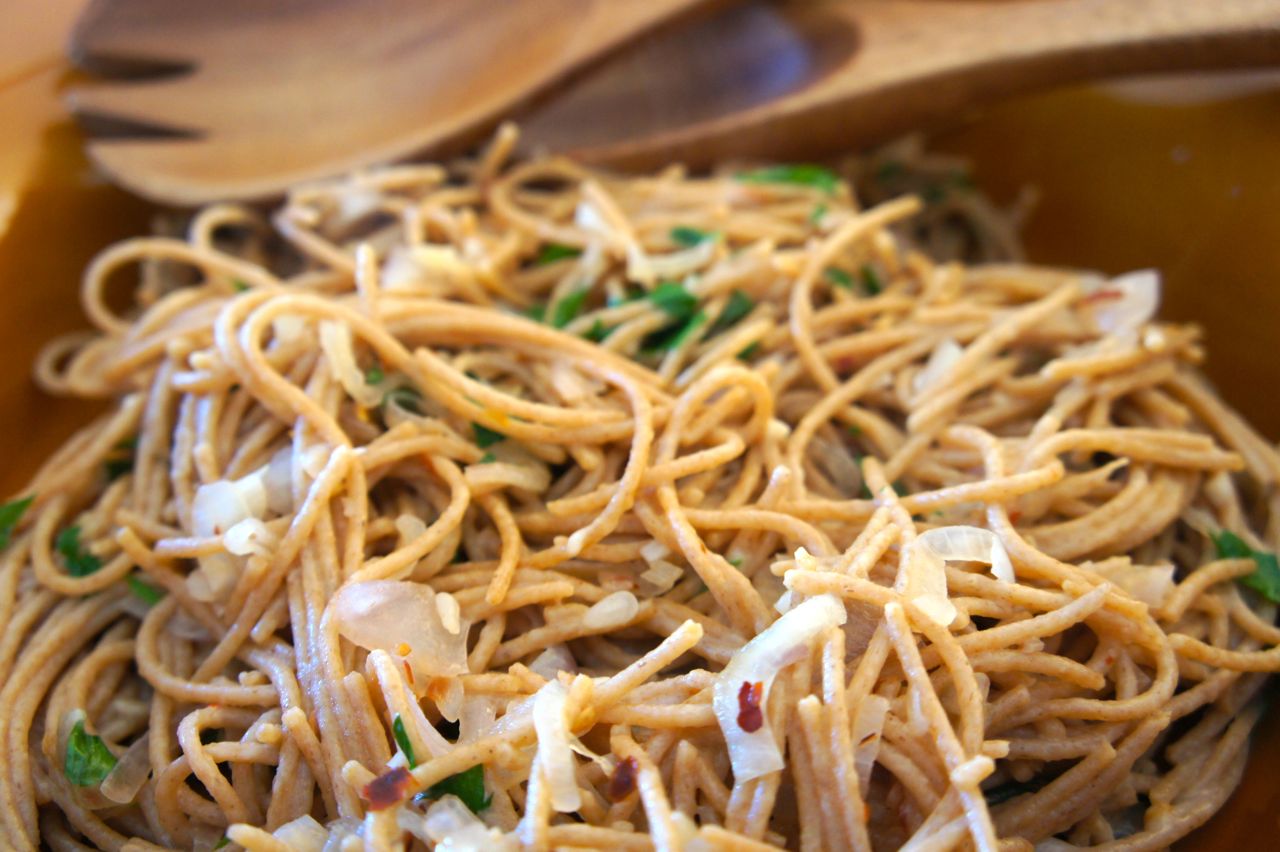 Ingredients
Whole wheat spaghetti

1⁄2 Pound

Olive oil

2 Tablespoon

Shallots

2

(chopped)

Garlic clove

1

(minced)

Red pepper flakes

1⁄2 Teaspoon

Reserved pasta water

1⁄2 Cup (8 tbs)

Parmesan cheese

2 Ounce

(grated)

Parsley

2 Tablespoon

(chopped)
Nutrition Facts
Serving size
Calories 334 Calories from Fat 107
% Daily Value*
Total Fat 12 g18.7%
Saturated Fat 3.5 g17.7%
Trans Fat 0 g
Cholesterol 9.6 mg
Sodium 240 mg10%
Total Carbohydrates 46 g15.3%
Dietary Fiber 0.45 g1.8%
Sugars 0.2 g
Protein 14 g28.2%
Vitamin A 17.2% Vitamin C 19.5%
Calcium 20.7% Iron 15.8%
*Based on a 2000 Calorie diet
Directions
Cook the whole wheat spaghetti according to package directions. While the the spaghetti is cooking in a large skillet add in olive oil and shallots and cook for 4 minutes on a medium heat. Add in garlic and red pepper flakes and cook for an additional minute.
Drain spaghetti noodles, be sure to reserve a cup of the pasta water. Toss drained spaghetti noodles with the shallots, garlic and red pepper flake mixture. (Be careful as the oil and water droplets will get active.) Slowly add in pasta water one ladle at a time until it is moist and slightly creamy, may not use all the reserved pasta water. Grate parmesan over top, add in parsley and toss once more, then serve and enjoy!