»

Recipes

»

Jalapeno

»

Fried Jalapeno And Yams
Fried Jalapeno and Yams Recipe
Spicy fried yams can make a good addition to a simple meal. You can serve them as your side dish for lunch or dinner or even as a breakfast with some soup. Spicy fried yams can go well with steamed rice and some curry.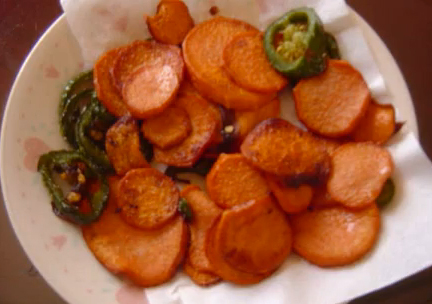 Ingredients
Jalapeno

1

, sliced

Yam

1

, sliced

Oil

1⁄2 Cup (8 tbs)

(For deep frying)
Nutrition Facts
Serving size
Calories 85 Calories from Fat 26
% Daily Value*
Total Fat 3 g4.6%
Saturated Fat 0.39 g2%
Trans Fat 0 g
Cholesterol 0 mg
Sodium 4.5 mg0.2%
Total Carbohydrates 14 g4.7%
Dietary Fiber 2.1 g8.6%
Sugars 0.4 g
Protein 0.81 g1.6%
Vitamin A 1.9% Vitamin C 16.8%
Calcium 0.9% Iron 1.6%
*Based on a 2000 Calorie diet
Directions
1) Heat a good amount of oil on a skillet or better yet use a deep fryer. A good amount = enough oil to cover both sides of the sliced yams.
2) Drop some yams in the hot oil and let it change color. Add some jalapenos a little later while you are at it.
3) Drain and blot the yams from the skillet/deep fryer onto a plate with absorbent paper.
4) Sprinkle salt and enjoy
* for crispier yams, try using a toaster oven to toast the yam crisps.
Editors Review
Want a simple addition to your meal? Try this Simple Fried Jalapeno and Yams. You can serve it as a side dish with lunch or dinner or just with some soup. It goes very well with steamed rice and curry.