»

Recipes

»

Grain

»

Couscous

»

Spicy Couscous Salad
Spicy Couscous Salad Recipe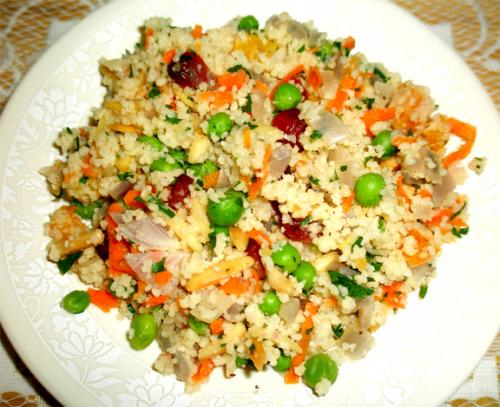 Ingredients
Couscous

4 Ounce

(100 Gram)

Canned chickpeas

220 Gram

, rinsed, drained

Chicken stock

3 1⁄2 Fluid Ounce

(100 Milliliter)

Lemon

1

, zest grated and juice extracted

Roasted red pepper

1

, chopped

Flaked toasted almonds

1 Ounce

(25 Gram)

Mint leaves

1⁄4 Ounce

, chopped (Use A Handful)

Greek yogurt

2 Tablespoon

(Natural Variety)

Harissa

1 Teaspoon
Nutrition Facts
Serving size: Complete recipe
Calories 990 Calories from Fat 180
% Daily Value*
Total Fat 20 g31.4%
Saturated Fat 1.8 g8.8%
Trans Fat 0 g
Cholesterol 3.1 mg
Sodium 1337.9 mg55.7%
Total Carbohydrates 163 g54.2%
Dietary Fiber 23 g92.1%
Sugars 8 g
Protein 39 g77.9%
Vitamin A 138.9% Vitamin C 219.2%
Calcium 27.6% Iron 34.3%
*Based on a 2000 Calorie diet
Directions
MAKING
1. Tip the couscous and chickpeas into a bowl.
2. Pour over the stock.
3. Cover and leave for 5-10 minutes until the couscous has absorbed the stock.
4. Allow to cool a little.
5. Toss through the lemon zest and juice, pepper, almonds and mint

SERVING
6. Heap onto a salad plate
7. Top with the yogurt and a drizzle of harissa.