»

Recipes

»

Indian

»

Raita

»

Spiced Onion Raita
Spiced Onion Raita Recipe
Spiced Onion Raita has a Far-fetched taste.The Sugar and Lime Juice gives the Spiced Onion Raita Enormous taste.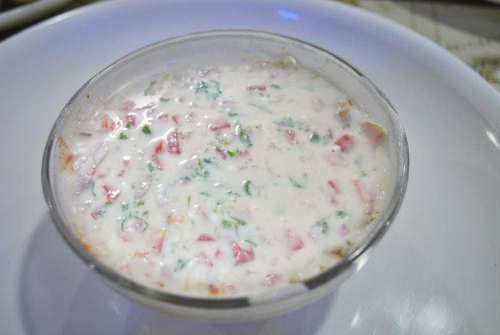 Ingredients
2 cup sour yoghurt hung up in a thin muslin cloth for 1/2 an hour

Onion

1 Large

, finley chopped

Green chilli

1

, finely chopped

1 tsp finely chopped coriander leaves

Powdered sugar

1 Teaspoon

Lime juice

1 Teaspoon

Salt

To Taste

Chilli powder

1/2 Teaspoon

(TO GARNISH :)

1 tsp roasted and pounded cummin seed
Directions
Mix all the above ingredients together and put in a serving bowl.
Refrigerate for about 30 minutes.
Sprinkle with chilli powder and cummin seed and serve with Indian dishes.