»

Recipes

»

Spiced Cauliflower
Spiced Cauliflower Recipe
Cauliflower with all its health benefits is an amazing ingredient. A highly versatile vegetable, it sure can be molded to form several lovely creations. This spiced cauliflower is one such tasty healthy creation.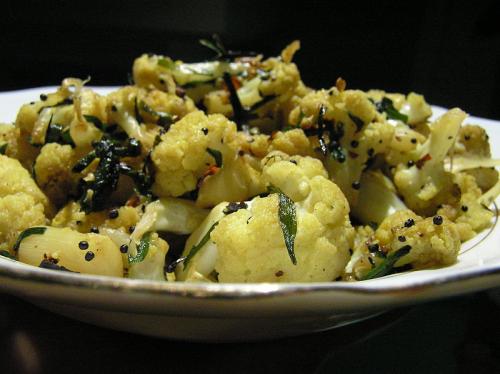 Summary
Preparation Time
5 Min
Cooking Time
30 Min
Ready In
35 Min
Difficulty Level
Easy
Health Index
Average
Servings
4
Ingredients
Shortening

1 Tablespoon

Cauliflower- 1 head, broken into flowerets

Onion

2 Tablespoon

, finely chopped

Garlic -1 small clove, crushed

Ginger

1/4 Teaspoon

Turmeric

1/4 Teaspoon

Whole Cloves

2

Salt

1/2 Teaspoon

Sour cream

1/2 Cup (16 tbs)

Almonds

1/4 Cup (16 tbs)

, slivered
Directions
MAKING
1)In a bowl, using an electric skillet melt shortening at 320 degrees.
2)Add onion, garlic, ginger, turmeric, and cloves. Mix and simmer.
3)Cut the flowerets lengthwise, into bite sized pieces.
4)Add it to the spice mixture and mix nicely.
5)Add 2 tablespoons water and salt.
6)Steam at 320 degrees until tender. Keep shaking pan frequently.
7)Add additional water if needed and toss cauliflower with sour cream.

SERVING
8)Take a serving bowl, and put the cauliflower and garnish with slivered almonds.