»

Recipes

»

Cookie

»

Spiced Black Pepper Cookies
Spiced Black Pepper Cookies Recipe
Spiced Black Pepper Cookies are pleasantly spiced with nutmeg, cinnamon, black pepper and ginger. You will love the partly sweet and partly spiced flavor in the cookies. These cookies are great with tea and all alone too.
Molasses Spice Cookies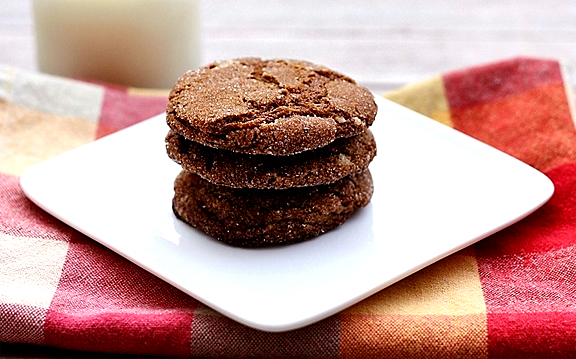 Ingredients
All purpose flour

2 Cup (32 tbs)

, sifted

Salt

1⁄4 Teaspoon

Double acting baking powder

1 Teaspoon

Shortening

1⁄2 Cup (8 tbs)

Ground ginger

1 Teaspoon

Ground cinnamon

1 Teaspoon

Ground nutmeg

1⁄2 Teaspoon

Ground black pepper

1⁄4 Teaspoon

Sugar

1 Cup (16 tbs)

Molasses

1⁄3 Cup (5.33 tbs)

Egg

1 Large

Milk raisin

1 Tablespoon
Nutrition Facts
Serving size
Calories 124 Calories from Fat 40
% Daily Value*
Total Fat 5 g7%
Saturated Fat 1.2 g5.9%
Trans Fat 0.5 g
Cholesterol 8.5 mg
Sodium 40.4 mg1.7%
Total Carbohydrates 20 g6.6%
Dietary Fiber 0.47 g1.9%
Sugars 10.9 g
Protein 1 g2.7%
Vitamin A 0.2% Vitamin C 0.06%
Calcium 3% Iron 4.5%
*Based on a 2000 Calorie diet
Directions
GETTING READY
1)Preheat oven at 350 degrees.

MAKING
2)In a bowl, sift together flour, salt and baking powder and set aside.
3)In another bowl, mix together shortening and spices, into which gradually blend in sugar and molasses.
4)Add egg and milk and stir in dry ingredients.
5)Take lightly greased cookie sheets and drop rounded spoonsful on it. Top it with a raisin.
6)Bake at the cookies for 15 minutes or until browned around the edges.
7)Cool on wire racks and store in a tightly closed container.

SERVING
8)Serve the spiced black pepper cookies when desired.