»

Recipes

»

Walnut

»

Spiced Walnuts
Spiced Walnuts Recipe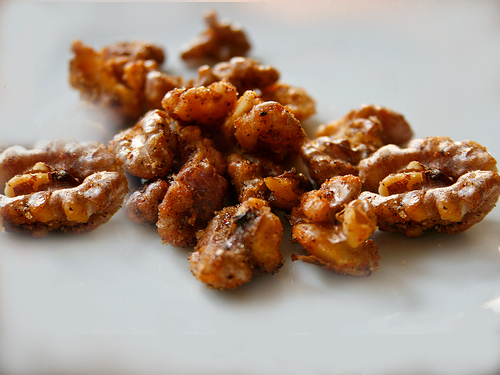 Ingredients
| | | |
| --- | --- | --- |
| | Fructose | 1⁄2 Cup (8 tbs) |
| | Cornstarch | 1⁄2 Cup (8 tbs) |
| | Ground cinnamon | 4 Teaspoon |
| | Ground allspice | 1 Teaspoon |
| | Ground nutmeg | 1⁄2 Teaspoon |
| | Ground ginger | 1⁄4 Teaspoon |
| | Egg whites | 2 |
| | Walnut halves | 2 Cup (32 tbs) |
Nutrition Facts
Serving size: Complete recipe
Calories 2137 Calories from Fat 1107
% Daily Value*
Total Fat 132 g203.4%
Saturated Fat 13.1 g65.6%
Trans Fat 0 g
Cholesterol 0 mg
Sodium 116.8 mg4.9%
Total Carbohydrates 236 g78.6%
Dietary Fiber 26.5 g105.8%
Sugars 47.7 g
Protein 38 g76.7%
Vitamin A 2.6% Vitamin C 9.1%
Calcium 44.1% Iron 47.2%
*Based on a 2000 Calorie diet
Directions
GETTING READY
1.Preheat the oven to 250 degrees F.

MAKING
2.Into a bowl, sift together fructose, cornstarch, cinnamon, allspice, nutmeg and ginger .
3.Mix and set aside.
4.In a bowl, beat the egg whites .
5.Add walnuts and combine.
6. Coat each walnut with fructose-spice mixture and shake off excess dry mixture.
7. On well oiled or Teflon cookie sheet ,place the almonds.
8.Bake for 60 to 90 minutes.
9.Let cool.
10. Store in air tight containers.

SERVING
11. Serve with wines.