»

Recipes

»

Indian

»

Spiced Indian Tea
Spiced Indian Tea Recipe
Are you looking for an irresistible Spiced Indian Tea recipe? Here's the answer when you look for a tasty Beverage. You will be tempted to prepare this Spiced Indian Tea recipe again.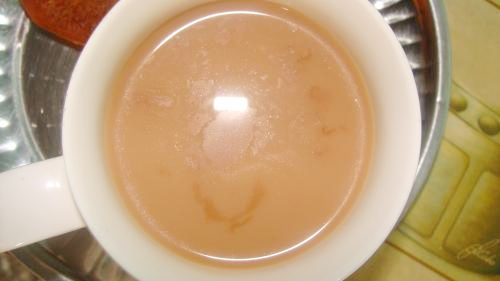 Ingredients
Cardamom pods

10

Cinnamon sticks

2

Cloves

10

Sugar

3 1⁄2 Tablespoon

Milk

1 1⁄4 Cup (20 tbs)

Tea

1⁄4 Cup (4 tbs)

(Ceylon / Assam)
Nutrition Facts
Serving size
Calories 68 Calories from Fat 14
% Daily Value*
Total Fat 2 g2.5%
Saturated Fat 0.89 g4.4%
Trans Fat 0 g
Cholesterol 4.7 mg
Sodium 22.5 mg0.9%
Total Carbohydrates 13 g4.2%
Dietary Fiber 0.77 g3.1%
Sugars 11.2 g
Protein 2 g3.5%
Vitamin A 1% Vitamin C 0.98%
Calcium 6.5% Iron 1.3%
*Based on a 2000 Calorie diet
Directions
GETTING READY
1 Make a small slit in the tough skin of the cardamom pods so that they will release their flavor but not the seeds enclosed inside.
2 In a warmed teapot, put the tea.


MAKING
3 In a saucepan, place the cardamoms, cinnamon sticks, and cloves
4 Add 6 1/4 cups cold water and bring to a boil.
5 Cover, and simmer gently for 10 minutes.
6 Add the sugar and milk and return to a boil.
7 Remove from the heat and immediately add to the tea in a warmed teapot.
8 Let stand for 2 minutes.

SERVING
9 Pour through a fine strainer into individual cups.
10 Serve at once.