»

Recipes

»

Spiced Drumsticks
Spiced Drumsticks Recipe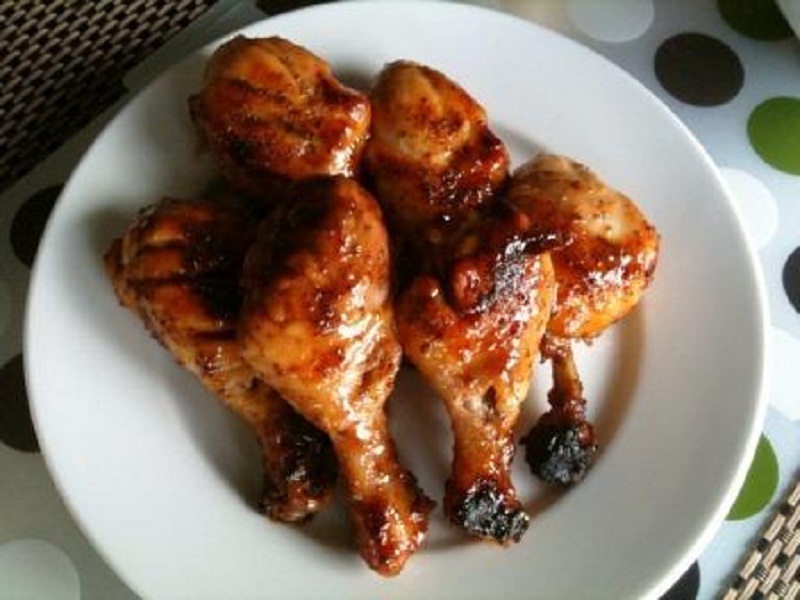 Ingredients
Chicken drumsticks

24 Ounce

(6 Drumsticks, 4 Ounce Each)

Seasoned flour

1 Ounce

Cooking oil

1 Tablespoon

Butter

1 Ounce

Onion

2 Ounce

, skinned and finely chopped

Curry powder

1 Teaspoon (Leveled)

Canned apricot halves

15 Ounce

, drained and sliced

Whole cloves

5

Lemon juice

1 1⁄2 Tablespoon

Chicken stock

1⁄4 Pint

Salt

To Taste

(To Complete Dish From Freezer)

Freshly ground black pepper

To Taste

(To Complete Dish From Freezer)

Chopped parsley

1 Tablespoon

(To Complete Dish From Freezer)

Salt

To Taste

Freshly ground black pepper

To Taste
Nutrition Facts
Serving size
Calories 271 Calories from Fat 94
% Daily Value*
Total Fat 11 g16.3%
Saturated Fat 3.9 g19.4%
Trans Fat 0.1 g
Cholesterol 98.1 mg
Sodium 262.5 mg10.9%
Total Carbohydrates 18 g6.1%
Dietary Fiber 1.3 g5.1%
Sugars 9.6 g
Protein 25 g49.5%
Vitamin A 8.1% Vitamin C 22.8%
Calcium 4.2% Iron 16.5%
*Based on a 2000 Calorie diet
Directions
GETTING READY
1) In a polythene abg, put drumsticks with seasoned flour.
2) Toss the drumsticks well to coat in the flour evenly.

MAKING
3) In a heavy bottomed pan, heat the oil.
4) In hot oil, fry the drumsticks until brown from all the sides.
5) In a casserole, transfer the drumsticks.
6) In the heated pan, fry the onions until brown.
7) Add to the pan, excess flour along with curry powder, apricots with juices, cloves , lemon juice and stock.
8) Boil the stock while stirring.
9) Pour the mixture over the drumsticks.
10) Cover the casserole and in oven cook at 325 degrees F for 2 hours.
11) Cool it quickly and remove excess fat from the top.

SERVING
12) Reheat before serving.