»

Recipes

»

Doughnut

»

Spiced Doughnut Muffins
Spiced Doughnut Muffins Recipe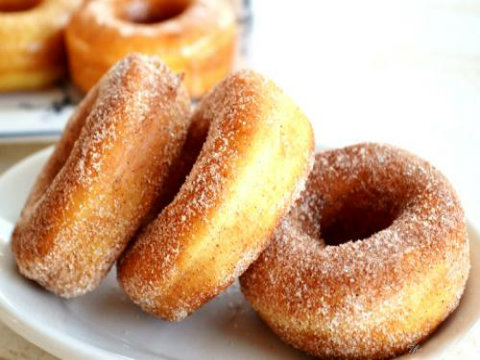 Ingredients
Vegetable oil

1⁄3 Cup (5.33 tbs)

Sugar

1 Cup (16 tbs)

, divided

Eggs

2

All purpose flour

1 1⁄2 Cup (24 tbs)

, sifted

Baking powder

1 1⁄2 Teaspoon

Salt

1⁄2 Teaspoon

Milk

1⁄2 Cup (8 tbs)

Butter

6 Tablespoon

, melted

Cinnamon

1 Teaspoon

Nutmeg

1⁄4 Teaspoon
Nutrition Facts
Serving size: Complete recipe
Calories 2984 Calories from Fat 1432
% Daily Value*
Total Fat 162 g249.7%
Saturated Fat 61.6 g308%
Trans Fat 0 g
Cholesterol 627.8 mg
Sodium 1760.5 mg73.4%
Total Carbohydrates 356 g118.7%
Dietary Fiber 8 g32%
Sugars 207.6 g
Protein 37 g73.3%
Vitamin A 57.3% Vitamin C 0.38%
Calcium 83.8% Iron 66.2%
*Based on a 2000 Calorie diet
Directions
Mix oil with 3/4 cup sugar.
Beat in eggs.
Mix and sift dry ingredients; add alternately with milk to creamed mixture.
Spoon batter into 12 paper lined custard or doughnut cups.
Fill cups 1/2 full.
Arrange 6 cups in a circle in Radarange oven; cook 2 to 2 1/4 minutes.
Repeat for remaining 6 cups.
While muffins are warm, peel off paper liners.
Roll muffins in melted butter, then in remaining sugar mixed with spices.