»

Recipes

»

Sauce

»

Spencer Christian's Spaghetti With Lentil Sauce
Spencer Christian's Spaghetti With Lentil Sauce Recipe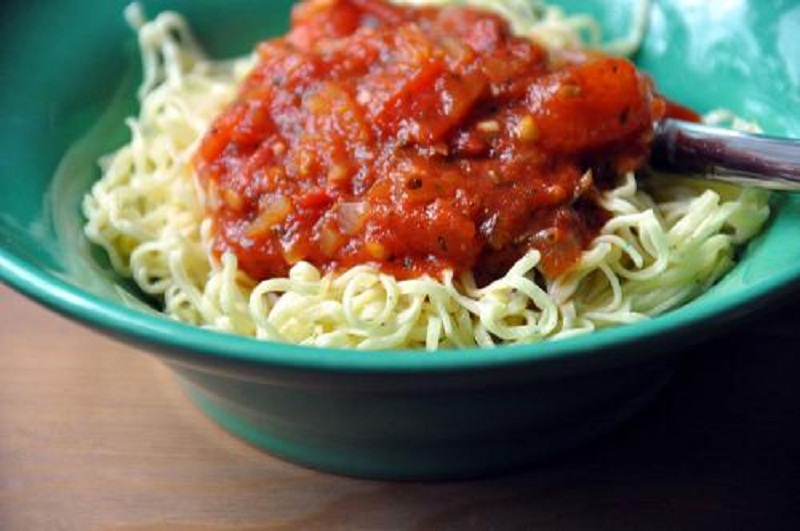 Summary
Preparation Time
20 Min
Cooking Time
30 Min
Ready In
50 Min
Difficulty Level
Easy
Health Index
Healthy
Servings
4
Ingredients
Dried lentils

1⁄2 Cup (8 tbs)

, picked over, rinsed

Onion

1 Medium

, chopped to make 1 cup

Garlic

2 Clove (10 gm)

, minced to make 2 teaspoon

Olive oil

2 Teaspoon

Roasted tomato sauce/Two 15-ounce cans of your favorite purchased tomato sauce

3 3⁄4 Cup (60 tbs)

(Use Fresh)

Tomato

1 Cup (16 tbs)

, chopped

Seeded chopped tomato

1 Cup (16 tbs)

Water

2 Cup (32 tbs)

Dried oregano

1⁄2 Teaspoon

Dried basil

1⁄2 Teaspoon

Dried thyme

1⁄2 Teaspoon

Salt

1⁄4 Teaspoon

Hot sauce

2 Dash

Dried spaghetti

1 Pound
Nutrition Facts
Serving size
Calories 642 Calories from Fat 45
% Daily Value*
Total Fat 5 g8%
Saturated Fat 0.82 g4.1%
Trans Fat 0 g
Cholesterol 0 mg
Sodium 171 mg7.1%
Total Carbohydrates 130 g43.2%
Dietary Fiber 13.5 g53.9%
Sugars 16.9 g
Protein 27 g54.9%
Vitamin A 42.1% Vitamin C 79.9%
Calcium 15.1% Iron 52.1%
*Based on a 2000 Calorie diet
Directions
MAKING
1) In a saucepan, add lentils and water. Simmer for 30 to 45 minutes till tender.
2) Drain and keep aside.
3) In large skillet heat oil and cook onion and the garlic over moderately low heat till onion is softened.
4) Stir in tomato sauce, chopped tomato, water, spices, salt, hot sauce, and cooked lentils.
5) Cook over simmering heat till heated through.
6) Follow packages instructions to cook the spaghetti.
7) Drain spaghetti.

SERVING
8) Serve spaghetti in individual bowls and top with lentil sauce.