»

Recipes

»

Spanish
Spanish Chicken Recipe
Spanish Chicken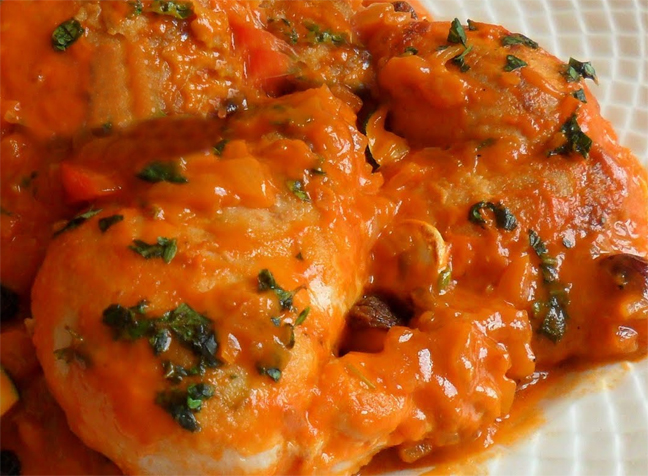 Ingredients
Stewing chicken

4 Pound

Butter

1⁄4 Pound

Onions

3 Medium

, chopped

Green bell pepper

1 Large

, chopped

Canned chopped pimientos

4 Ounce

Canned pimientos

4 Ounce

, chopped

Ground red chili

1 Tablespoon

(More)

Ground red chile

1 Tablespoon

(More)

Caraway seeds

1⁄2 Teaspoon

Salt

2 Teaspoon

Ground black pepper

1⁄2 Teaspoon

Tomatoes

3

, cut into wedges

Chicken broth

1 Cup (16 tbs)

(More)

Sour cream

1 Cup (16 tbs)

Flour

3 Tablespoon

Snipped parsley

2 Tablespoon

Pitted black olives

1⁄2 Cup (8 tbs)

, cut in rings
Nutrition Facts
Serving size: Complete recipe
Calories 5480 Calories from Fat 3211
% Daily Value*
Total Fat 362 g556.3%
Saturated Fat 143.5 g717.6%
Trans Fat 0 g
Cholesterol 1579 mg
Sodium 6832.3 mg284.7%
Total Carbohydrates 159 g53%
Dietary Fiber 35.8 g143%
Sugars 57 g
Protein 400 g799.5%
Vitamin A 466.4% Vitamin C 821.7%
Calcium 81.1% Iron 159.5%
*Based on a 2000 Calorie diet
Directions
1 Place cut-up chicken in a large casserole that has been generously buttered.
2 Melt butter in a frying pan and lightly saute the onions and green pepper. When limp, add pimientos and cook until golden. Pour evenly over the chicken.
3 Season with the chile, caraway seeds, salt and pepper. Cover with the tomatoes and chicken broth. Add more chicken broth if needed during baking. Bake in a 350°F. oven for 1 1/2 hours, or until tender.
4 When the chicken is tender when pierced with a fork, remove casserole from oven and remove chicken from the sauce.
5 Combine the sour cream with the flour and stir into the sauce in the casserole dish. Stir until well blended. Place over medium heat and simmer until thickened.