»

Recipes

»

Spinach

»

Spanakopita
Spanakopita Recipe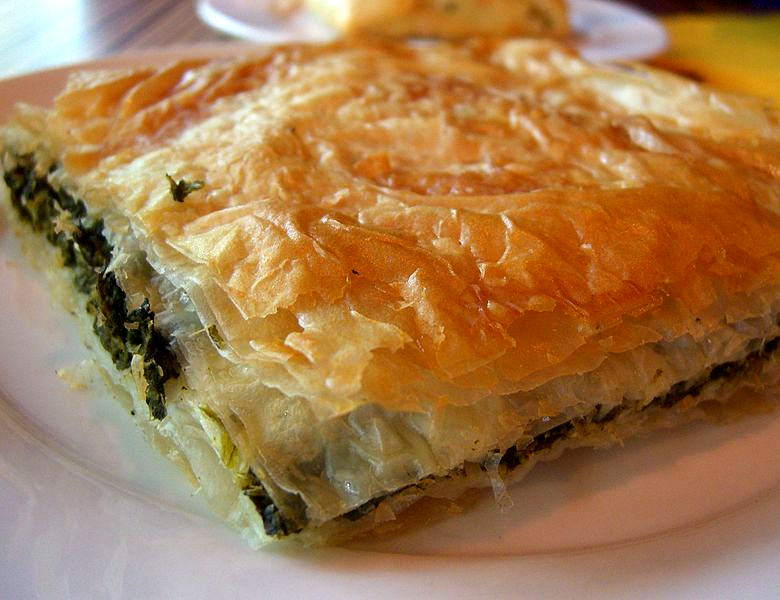 Ingredients
Trimmed spinach/Swiss chard

3 Pound

(1.25 Kilogram)

Salt

3 Tablespoon

Olive oil

3 Fluid Ounce

(90 Milliliter)

Feta cheese

12 Ounce

, lightly crumbled (315 Gram)

Fresh parsley

1⁄4 Cup (4 tbs)

(Generous Handful)

Fresh dill/Generous amount of dried dill

1⁄4 Cup (4 tbs)

(Generous Handful)

Spring onions

5

, chopped

Pepper

To Taste

Burghul

3 Tablespoon

(Wheat)

Eggs

3

Phyllo pastry

1 Pound

(500 Gram)

Butter/Olive oil / a mixture

1 Teaspoon (Leveled)
Nutrition Facts
Serving size
Calories 613 Calories from Fat 286
% Daily Value*
Total Fat 32 g49.7%
Saturated Fat 11.7 g58.6%
Trans Fat 0 g
Cholesterol 157.3 mg
Sodium 4105.5 mg171.1%
Total Carbohydrates 64 g21.4%
Dietary Fiber 8.3 g33.1%
Sugars 5.3 g
Protein 25 g49.9%
Vitamin A 440.1% Vitamin C 116.2%
Calcium 56.5% Iron 54.4%
*Based on a 2000 Calorie diet
Directions
Wash the spinach, or chard, chop or tear coarsely, add the salt and rub it into the spinach.
Leave for an hour in a large colander.
Rinse and squeeze well.
Flavour with olive oil, the cheese and the parsley and dill, finely chopped.
If you use onion ensure that it is very finely chopped.
If you have the burghul wheat, add this to the mixture; it will swell during the cooking, absorbing any excess liquid, and give a firmer pie for cutting which is useful if you expect people to eat it in their hands.
Finally, mix in the eggs.
Select a rectangular ovenproof dish or roasting -tin about 36 X 25 cm/14 X 10 inches.
You can use melted butter, olive oil or a mixture of the two to brush the dish or roasting-tin and the pastry.
Line the dish with 6 layers of phyllo pastry, brushing each with the butter and oil mixture you have chosen.
Spread the filling evenly, then top with more pastry layers treated as before with butter or oil.
Score through the top 2-3 sheets with the tip of a sharp knife to make a diamond pattern.
Sprinkle the top lightly with water, then bake at 180°C/350°F/Gas Mark 4 for about 45 minutes.
Serve hot or cold.