»

Recipes

»

Spaghetti With White Clam Sauce
Spaghetti with White Clam Sauce Recipe
Are you short on time to cook something delicious? Then what are ovens and microwaves for. Try out this wonderful recipe for Spaghetti with White Clam Sauce - my all time family favorite. This Spaghetti with White Clam Sauce is so easy, but is equally delicious! Simply try it out!
Spaghetti With White Clam Sauce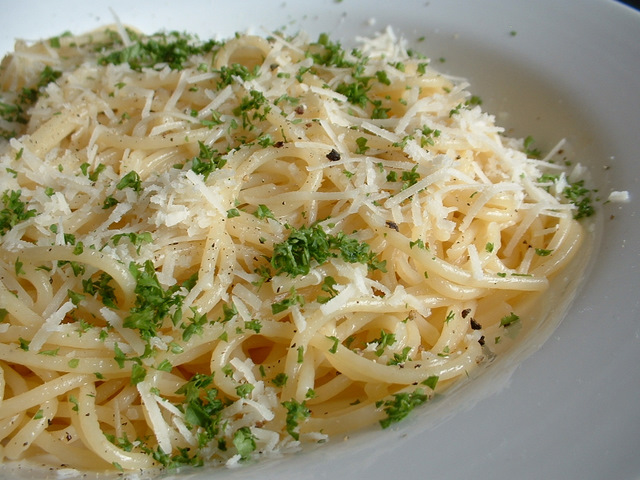 Ingredients
Spaghetti

1 pound

Garlic

2 Clove (5gm)

Clams – 1 can (8-ounce), drained & minced

Parsley

1/4 Cup (16 tbs)

, minced

Olive oil

1/2 Cup (16 tbs)

Salt

1/2 Teaspoon

Pepper

1/4 Teaspoon

Cayenne

1 Dash

Parmesan cheese

1/2 Cup (16 tbs)

, grated
Directions
MAKING
1) Take a saucepan and cook spaghetti in it according to package directions. Keep hot.
2) Take a blazer pan and heat oil in it. Cook garlic in it until brown in color.
3) Discard the garlic and add clams, seasonings and parsley.
4) Heat the mixture and pour over hot spaghetti.
5) Add cheese and toss until nicely mixed.

SERVING
6) Serve with additional cheese and parsley.