»

Recipes

»

Spaghetti With Spinach & Onion
Spaghetti With Spinach & Onion Recipe
Whipping up this Spaghetti With Spinach & Onion is real easy and simple. Also this recipes asks for no complicated ingredient combination. Give this Spaghetti With Spinach & Onion a try and you will know how simple dishes can turn out to be so delicious!
Spinach Spaghetti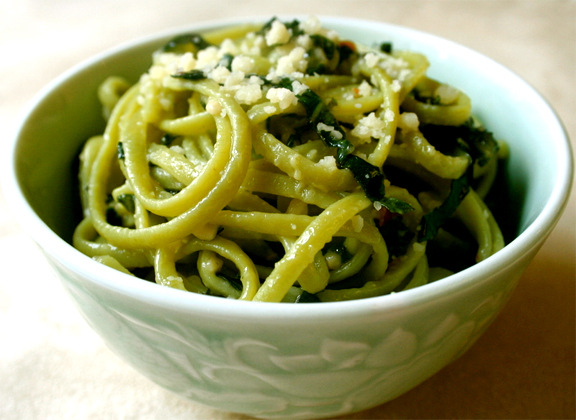 Ingredients
Spaghetti

8 Ounce

Salt

1 Tablespoon

Boiling water

3 Quart

Frozen chopped spinach

10 Ounce

(1 Package)

Chopped onion

1⁄2 Cup (8 tbs)

Vegetable oil

1⁄4 Cup (4 tbs)

Grated parmesan cheese

1⁄4 Cup (4 tbs)
Nutrition Facts
Serving size: Complete recipe
Calories 1507 Calories from Fat 601
% Daily Value*
Total Fat 68 g105.1%
Saturated Fat 13.3 g66.7%
Trans Fat 0 g
Cholesterol 27.4 mg
Sodium 6677.9 mg278.2%
Total Carbohydrates 189 g63.1%
Dietary Fiber 7.6 g30.4%
Sugars 4.9 g
Protein 54 g108.3%
Vitamin A 534.4% Vitamin C 142.6%
Calcium 82.4% Iron 91.2%
*Based on a 2000 Calorie diet
Directions
Gradually add spaghetti and salt to rapidly boiling water so that water continues to boil; cook uncovered, stirring occasionally, until tender.
Drain in colander.
While spaghetti is cooking, cook spinach, following label directions.
During the last few minutes of cooking, add onion; drain spinach well.
Toss spinach with spaghetti, oil and cheese.