»

Recipes
Spaghetti Recipe
This is a very interesting and good recipe of Spaghetti. Try this recipe for Spaghetti and comeback and let me know how you enjoyed this Spaghetti recipe.
Spaghetti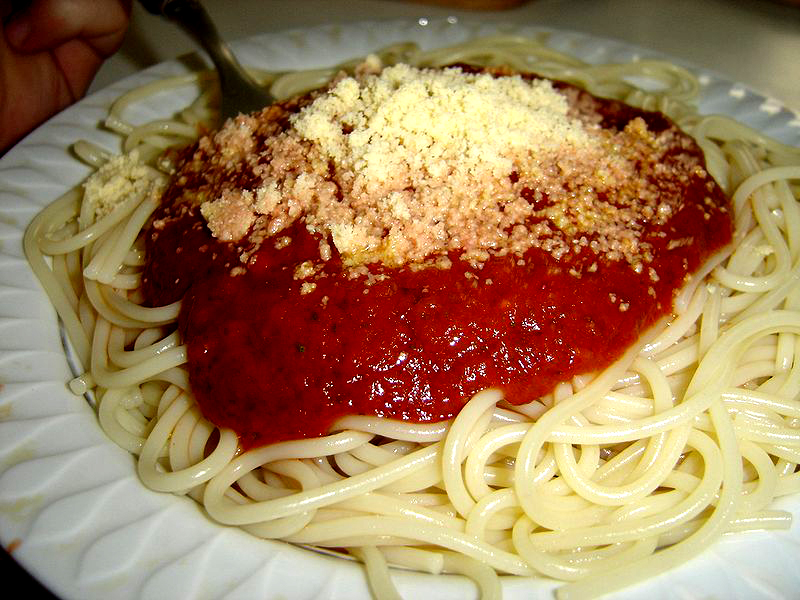 Ingredients
Spaghetti

2 Ounce

Water

2 Cup (32 tbs)

(8 pints per 1/2 pound of spaghetti)
Nutrition Facts
Serving size: Complete recipe
Calories 197 Calories from Fat 7
% Daily Value*
Total Fat 0.79 g1.2%
Saturated Fat 0.15 g0.73%
Trans Fat 0 g
Cholesterol 0 mg
Sodium 4.5 mg0.2%
Total Carbohydrates 43 g14.2%
Dietary Fiber 0 g
Sugars 0 g
Protein 8 g16.6%
Vitamin A Vitamin C
Calcium 2.3% Iron 11.4%
*Based on a 2000 Calorie diet
Directions
MAKING
1. In a large saucepan of boiling water, dip the spaghetti from one side by holding the other side with hand.
2. Gradually turn the spaghetti in water as its softens; do not break the spaghetti.
3. Cook until the spaghetti is soft or cook quickly for 20-30 minutes.
4. Drain well.

FINALIZING
5. Heat a greased oven dish, place the drained spaghetti.
6. Add butter and toss gently until spaghetti coated well with butter and is shiny.

SERVING
7. Serve spaghetti in a plate and add your favorite sauce on top.