»

Recipes

»

Spaghetti With Lobster
Spaghetti With Lobster Recipe
Spaghetti With Lobster is a mouth watering side dish recipe. I am sure this tasty and irresistible Spaghetti With Lobster dish will get you a lot of compliments!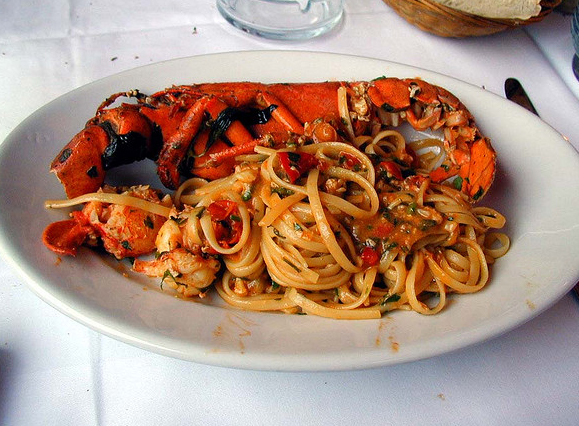 Ingredients
Live lobsters

3 Pound

(About 2 Of 1 1/2 Pounds Each)

Olive oil

1⁄3 Cup (5.33 tbs)

Garlic

1 Clove (5 gm)

, minced

Onion

1 Small

, chopped

Salt

1 Teaspoon

Cayenne pepper

1⁄2 Teaspoon

Black pepper

To Taste

Canned tomatoes/1 pound fresh tomatoes, peeled and chopped

1 Cup (16 tbs)

Tomato paste

2 Tablespoon

Water

2 Tablespoon

Dry white wine

3⁄4 Cup (12 tbs)

Chopped parsley

1 1⁄2 Tablespoon

Oregano

1 Teaspoon

Pasta

1 Pound

, cooked and drained
Nutrition Facts
Serving size: Complete recipe
Calories 3885 Calories from Fat 845
% Daily Value*
Total Fat 94 g145.2%
Saturated Fat 12.8 g64.2%
Trans Fat 0 g
Cholesterol 1292.7 mg
Sodium 6360.9 mg265%
Total Carbohydrates 384 g127.8%
Dietary Fiber 28.1 g112.3%
Sugars 27.3 g
Protein 321 g641.4%
Vitamin A 129.4% Vitamin C 125.2%
Calcium 92.4% Iron 120%
*Based on a 2000 Calorie diet
Directions
1. Wash the lobsters. Gut the spinal cord of each by inserting a knife where the tail and body meet. Turn the lobsters on their backs and split lengthwise. Cut each tail crosswise into three pieces. Gut off the claws and crack them.
2. Heat the oil in a large skillet, add the lobsters and cook over high heat three or four minutes, or until they are red. Add the garlic, onion and seasonings and cook, stirring, two minutes.
3. Add the tomatoes and tomato paste blended with the water and cook, turning constantly, about one minute.
4. Add the wine, parsley and oregano and cook about ten minutes, turning frequently.
Image Courtesy :
http://www.flickr.com/photos/pelican/32634121/