»

Recipes

»

American

»

Southern

»

Southern Gumbo
Southern Gumbo Recipe
My sister likes this Southern Gumbo recipe. This recipe was given to her by one of her friends. Whenever there is a party in our house, she prepares this gumbo soup. All the guests like this soup very much and thank her for preparing it. Which makes my sister very happy. Have a happy moment must try this Southern Gumbo recipe.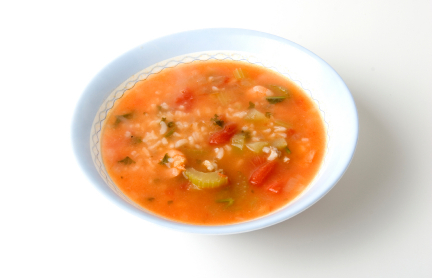 Ingredients
Bacon drippings/Butter

1⁄2 Cup (8 tbs)

Onion

2 Large

, chopped

Canned tomatoes

4 Cup (64 tbs)

Salt

3 Teaspoon

Pepper

1 Teaspoon

Okra

4 Cup (64 tbs)

, sliced

Bouillon

4 Cup (64 tbs)

Uncooked rice

2 Cup (32 tbs)

Rice

2 Cup (32 tbs)

, uncooked
Nutrition Facts
Serving size
Calories 742 Calories from Fat 170
% Daily Value*
Total Fat 19 g29%
Saturated Fat 8.3 g41.6%
Trans Fat 0 g
Cholesterol 18.2 mg
Sodium 1512.6 mg63%
Total Carbohydrates 130 g43.3%
Dietary Fiber 11.1 g44.6%
Sugars 5.8 g
Protein 16 g32.7%
Vitamin A 31.7% Vitamin C 76.7%
Calcium 21.4% Iron 28.7%
*Based on a 2000 Calorie diet
Directions
Stage1-Melt drippings or butter in large heavy soup kettle.

Stage2- Add onion. Saute until lightly browned.

Stage3-Add remaining ingredients.

Stage4-Tightly cover.

Stage5-Heat to boiling; then reduce heat.

Stage6-Simmer for 35 minutes.

I am sure the c. stands for cups, and bouillon is a stock, can be meat, chicken, or veg. Knorr is popular brand. Shanti/Mary-Anne
Posted on:
15 March 2008 - 7:47pm
wtie the meaning of "c" & bouillion ? helosharmaji@yahoo.co.in
Posted on:
15 March 2008 - 8:27am