»

Recipes

»

Indian

»

South Indian Mango Pickle
south indian mango pickle Recipe
Have you always wanted to make pickle at home? Here is a South Indian mango pickle recipe and tips that you could follow and make it right in your kitchen. So now you can say bye to the store bought pickles and actually customise it to your individual tastes. Tips For those who have never tried making this delicacy at home a few tips may come in handy. 1. Make sure to keep ready a reasonably big ceramic jar or a plastic container, clean and dry and with a proper lid. 2. Mangoes must be cleaned and dried properly. Wash and dry hands. No dampness should be allowed to creep in at any stage. 3. Remember that the quantity is more on the day it is made. On the third day the level comes down. Mix it thoroughly. Many make it in a big container, since it is more convenient to mix well. Later it can be transferred to smaller bottles or jars.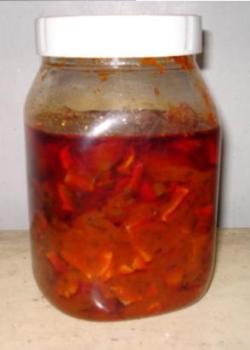 Ingredients
Raw mango

12 Medium

Mustard powder

300 Gram

Red chili powder

250 Gram

Salt

250 Gram

(not more than 150 to 200 gms if using iodised salt)

Fenugreek seeds

50 Gram

Sesame seed oil

1 1⁄2 Kilogram
Nutrition Facts
Serving size
Calories 896 Calories from Fat 726
% Daily Value*
Total Fat 82 g126.6%
Saturated Fat 11.3 g56.3%
Trans Fat 0 g
Cholesterol 0 mg
Sodium 4898.1 mg204.1%
Total Carbohydrates 39 g13%
Dietary Fiber 9.6 g38.4%
Sugars 25.9 g
Protein 8 g15.3%
Vitamin A 35.9% Vitamin C 93%
Calcium 10.2% Iron 14.4%
*Based on a 2000 Calorie diet
Directions
Leave the raw mangoes in water for 15 minutes and dry them with a clean cloth. Cut them into pieces of 1 1/2 to 2 inches. Discard the seed / stone and the onion type layer on the pieces. Clean the cut pieces with dry cloth.

Mix the mustard powder, red chili powder, salt and fenugreek seeds together in a big basin. Add one cup of oil and mix to a consistency that can be held in a fist. Sprinkle the mango pieces also with a little oil. Take a few mango pieces at a time and mix them well with mustard, chili, salt mix and put them in a ceramic jar or a big plastic container. Repeat the process till the mix and the mango pieces are over. Towards the end if a little mix remains it can be added on top. Pour 1 inch oil above it and cover it with a lid. Tie a neat thick cloth over it and store it. Mix it well on the third day. Taste it and if need salt may be added at this stage. Those who want to add garlic or chickpeas can do so now. Take some Avakaya separately and mix a handful of chickpeas in some and garlic in some. Since chickpeas and garlic take oil add extra oil.

padmavenkey says :
suggest some preservative. Because every time when i prepare it gets spoiled after five or six days.
Posted on:
30 December 2009 - 8:03am

Delilah Nathan says :
Seems just the recipe I was looking for! Most commonly known as the "Komati" pickle. With the mango season very near, you bet I'll try it this time. What I would like to know is the recipe suggests that chickpea can be added to the pickle on the third day. Please clarify whether the chickpea should be soaked or can be added as it is. Thanks once again in advance
Posted on:
26 October 2009 - 7:54am

Chef, this mango pickle looks great. This is definitely something that I would like to try with the mango season just approaching. Have given lime pickle an unsuccessful try before. Had got the taste and everything right however after 2 days there was a white fungal growth at the top. Now looking back I think I went a little health conscious at the last minute and tried to save on oil that plays an important role as a preservative. Could it be less oil that resulted in the white growth ( as I am sure there was no moisture at all in the container otherwise)? Please advice as pickles is something that I would like to make a beginning at.
Posted on:
24 February 2009 - 11:30pm