»

Recipes

»

African

»

South African Chicken Pie
South African Chicken Pie Recipe
South African Chicken Pie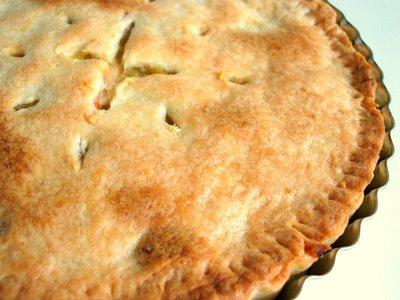 Ingredients
Chicken

3 Pound

(1 Whole)

Salt

1 Teaspoon

White peppercorns

1 Teaspoon

Bay leaves

2

Carrots

3

, peeled and sliced

Onions

2

, peeled and quartered

Celery sticks

3

, diced

Parsley sprigs

4

Cooked ham slices

3

Hard boiled eggs

2

, sliced

Butter/Margarine

2 Tablespoon

Flour

2 Tablespoon

Sherry

3 Tablespoon

Lemon juice

1 Tablespoon

Sugar

1 Teaspoon

Ground mace

1 Pinch

Egg yolk

1

Pastry

1

(For 9 Inch 1 Crust 1 Pie)

Egg/Milk

1 Tablespoon

(For Glaze)
Nutrition Facts
Serving size
Calories 926 Calories from Fat 471
% Daily Value*
Total Fat 52 g80.7%
Saturated Fat 16.6 g83.1%
Trans Fat 0 g
Cholesterol 427 mg
Sodium 896.4 mg37.4%
Total Carbohydrates 28 g9.2%
Dietary Fiber 4.2 g16.7%
Sugars 9.9 g
Protein 81 g161%
Vitamin A 173.5% Vitamin C 20.9%
Calcium 11.4% Iron 24.4%
*Based on a 2000 Calorie diet
Directions
GETTING READY
1) Cut the chicken neatly into quarters.

MAKING
2) In a large skillet, put the chicken pieces, seasoning, vegetables and enough water to cover the contents. Cover and cook over low flame for about 30 minutes. Strain the stock and set it aside.
3) Cut the meat from the chicken into large chunks and cut the cooked vegetables.
4) In a fireproof baking dish, arrange alternate layers of chicken, vegetables, ham and eggs.
5) With butter, flour and 1 cup of the reserved chicken stock, make a sauce. Add the lemon juice, sherry, sugar and mace and cook till the mixture has thickened. Stir in the egg yolk and heat once again without brining to a boil, check the seasoning.
6) Pour the sauce all over the chicken and cover with pastry.
7) From the center of the pie, cut a line towards each of the four corners and fold each triangle back, leaving an open square.
8) With milk or a beaten egg, glaze the pie and bake for about 30 minutes.

SERVING
9) Serve hot.