»

Recipes

»

Cream

»

Sour Cream Cheesecake
Sour cream cheesecake Recipe
This is a very rich and creamy dessert. It just melts in your mouth. Once you taste it, I bet you will be reluctant to share it with others.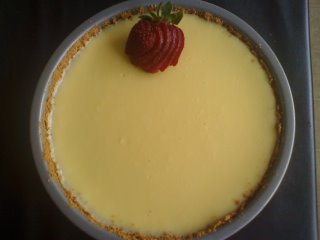 Ingredients
Graham cracker squares

35

, crumbled

Unsalted butter

1⁄4 Cup (4 tbs)

, melted (plus additional, for brushing the pan)

Sugar

1 Tablespoon

(If using Honey Graham Crackers then omit the sugar.)

Cream cheese

20 Ounce

(at room temperature)

Sour cream

1 1⁄4 Cup (20 tbs)

(at room temperature)

Sugar

1 Cup (16 tbs)

Vanilla extract

1 Tablespoon

Eggs

2

(at room temperature)

Yolks

3

(at room temperature)

Half and half

1⁄3 Cup (5.33 tbs)

(at room temperature)

Strawberry

1

(for garnish)
Nutrition Facts
Serving size
Calories 3603 Calories from Fat 956
% Daily Value*
Total Fat 112 g172.9%
Saturated Fat 35.2 g175.8%
Trans Fat 0 g
Cholesterol 238.8 mg
Sodium 4781.6 mg199.2%
Total Carbohydrates 601 g200.2%
Dietary Fiber 23.7 g94.9%
Sugars 196.6 g
Protein 55 g110.3%
Vitamin A 29.4% Vitamin C 2.2%
Calcium 61% Iron 135.6%
*Based on a 2000 Calorie diet
Directions
Preheat oven to 300 degrees F. Brush some of the melted butter around a 9 by 3-inch cake pan. Place parchment paper to the bottom and the sides.

In a small bowl, combine crumbled graham crackers, the remaining melted butter, and 1 tablespoon of sugar. Press the mixture into the bottom of the parchment-lined pan and to the sides and bake for 10 minutes. Let it cool.

In a mixer with a paddle attachment, beat sour cream for 10 seconds. Add the cream cheese and sugar and mix on low for 30 seconds and then turn up to medium. Scrape the bowl.

In a separate container, combine vanilla, eggs, yolks, and half and half. With the mixer on medium, slowly pour the liquid mixture in. Stop and scrape when half of the mixture is combined. Continue adding the mixture until the rest of the ingredients are incorporated. Once completely combined, pour into the cooled crust.

In the meantime, bring a pot of water to a boil.

Set the 9 by 3-inch prepared cake pan into a larger oven safe pan (preferably a roaster) and pour the boiling water into the larger pan until the water level reaches halfway through the 9 by 3-inch cake pan. This is called water bath.

Lower oven temperature to 250 degrees F and bake 1 hour and 40 minutes. Turn the oven off and open the door for approximately one minute. Close the door for one more hour. Remove the cheesecake from the water bath and place in the refrigerator for 6 hours to completely cool before serving.

Unmold onto serving dish. Garnish with a strawberry. Enjoy as is or with chocolate or strawberry sauce.

Note:
1) To slice the cake, place your knife into a hot water and wipe dry each time you make a cut through the cake.
2) Baking temperature varies depending upon the age of oven. You need to bake atleast for an hour without opening the oven door and then you can adjust the time.
3) If you do not have a mixer you can surely prepare this cheesecake using a bowl and whisk to combine all the ingredients but care should be taken not to over beat the mixture.

Thanks for visiting my recipe. I will surely place strawberry halves all the way around the cheesecake from now on. Can you elaborate more on top thin baked layer. Thanks, appreciate your feedback.
Posted on:
26 August 2008 - 2:50pm

This is very close to the recipe I have made for many years. Only I have a top thin baked layer, plus strawberries all the way around the cheese cake on top and/or I place cut strawberry havles all the way around the sides! Looks pretty too and no one is fighting for the strawberry! Shanti/Mary-Anne
Posted on:
22 August 2008 - 11:04pm