»

Recipes

»

Dough

»

Sour Dough Starter
Sour Dough Starter Recipe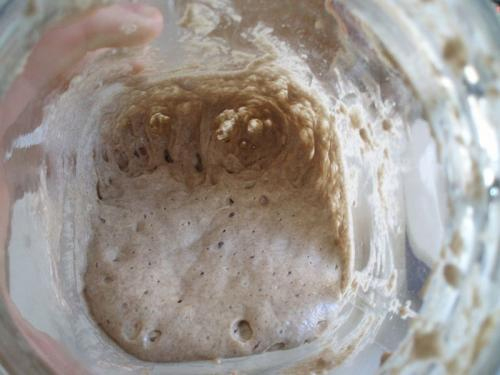 Ingredients
Potatoes

2 Medium

, peeled

Water

3 Cup (48 tbs)

Salt

2 Teaspoon

Dry yeast envelope

1⁄4 Ounce

Sugar

1 Teaspoon

Lukewarm water

1⁄2 Cup (8 tbs)

Unsifted all purpose flour

2 Cup (32 tbs)
Nutrition Facts
Serving size: Complete recipe
Calories 1217 Calories from Fat 26
% Daily Value*
Total Fat 3 g4.7%
Saturated Fat 0.52 g2.6%
Trans Fat 0 g
Cholesterol 0 mg
Sodium 3909.9 mg162.9%
Total Carbohydrates 262 g87.4%
Dietary Fiber 15.9 g63.4%
Sugars 8.4 g
Protein 36 g71.1%
Vitamin A 0.1% Vitamin C 113.7%
Calcium 9% Iron 86.2%
*Based on a 2000 Calorie diet
Directions
Cut the potatoes into quarters and add water, 2 teaspoons salt and 2 tablespoons sugar.
Cover and simmer until tender.
Mash without draining and let the mixture cool to lukewarm.
Meanwhile, dissolve the yeast and 1 teaspoon sugar in 1/2 cup lukewarm water for 10 to 15 minutes.
Add to the potato mixture and beat in the flour.
Cover and leave at room temperature for three days, stirring down the batter each day.
On the third day scald 1 cup skim milk with 3 tablespoons sugar, 3 tablespoons butter or shortening and 1 teaspoon salt.
Cool to lukewarm, then stir in 3 cups of the starter, and enough all-purpose flour to form a stiff dough as you would when making regular bread.
You will need about 6 or 7 cups.
Work in the flour first with a wooden spoon, then by hand.
When quite stiff, turn out on a floured surface and knead about 8 minutes until dough is smooth and elastic.
During kneading add more flour as may be necessary.
Shape into a smooth ball and drop into a warm, greased bowl.
Turn the dough to coat the top.
Cover and let rise until doubled.
Mean while, add 1 3/4 cups lukewarm water to the remaining starter and beat in 1 3/4 cups all-purpose flour.
Cover and let stand at room temperature for 24 hours then scrape into a deep wide-mouthed jar, cover and refrigerate.
To make more bread, add the same lukewarm skim milk mixture and flour, you mixed with the first 3 cups of starter and repeat kneading, rising and baking.
When the first bowl of dough has doubled, punch down and knead lightly until smooth then cut into 3 pieces and shape into loaves.
Press dough into medium-size loaf pans.
Brush with oil or melted fat and cover.
Let rise again and bake at 400F for 35 minutes.
Lower heat to 375F and bake 10 to 15 minutes longer or until browned.