»

Recipes

»

Cream

»

Sour Cream Raisin Pie
Sour Cream Raisin Pie Recipe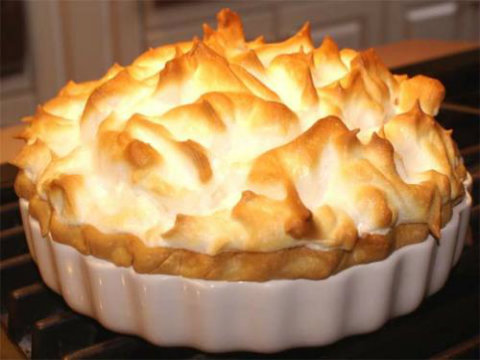 Ingredients
10 inch baked pastry shell

1

For filling

Seedless raisins

1⁄2 Cup (8 tbs)

Nut meats

1⁄2 Cup (8 tbs)

Sugar

1 Cup (16 tbs)

Flour

2 1⁄2 Tablespoon

Cinnamon

1 Teaspoon

Ground cloves

1⁄4 Teaspoon

Sour cream

1 1⁄2 Cup (24 tbs)

Egg yolks

3

Egg whites

3

Sugar

6 Tablespoon
Nutrition Facts
Serving size
Calories 508 Calories from Fat 181
% Daily Value*
Total Fat 21 g32%
Saturated Fat 11.1 g55.7%
Trans Fat 0 g
Cholesterol 122.4 mg
Sodium 163.1 mg6.8%
Total Carbohydrates 78 g25.9%
Dietary Fiber 1.8 g7.4%
Sugars 60.5 g
Protein 6 g12.1%
Vitamin A 8.9% Vitamin C 2.1%
Calcium 16.5% Iron 6.3%
*Based on a 2000 Calorie diet
Directions
GETTING READY
1. Collect and measure all the required ingredients
2. Chop the raisins and nuts on a nut board and combine in a bowl.
3. Prepare a double boiler pan by setting a saucepan filled with 3 inches of water over a medium low flame.

MAKING
4. In a mixing bowl that fits over the double boiler, combine raisin-nut mixture, sugar, flour and spices.
5. Stir in the sour cream and blend well.
6. Place the bowl over the double boiler, and cook, stirring constantly until the mixture thickens and begins to bubble.
7. Take the pan off the heat and add the lightly beaten egg yolks to the sauce, a little at a time, stirring until all of it is blended completely.
8. Return the bowl over the double boiler and cook, stirring constantly until the mixture resembles thick custard.
9. Take bowl off the flame and allow the custard to cool slightly stirring occasionally lump free, before pouring it into the baked pie shell placed on a baking sheet.
10. In a clean dry, cool bowl, add the egg whites and whisk until frothy.
11. Then adding sugar, a tablespoon at a time, continue whisking until a thick glossy meringue is formed. It should be stiff and stand in peaks.
12. Spoon the meringue over the custard in the pie shell, spreading to cover the whole surface but leaving it to stand in small peaks.
13. Place the pie under a medium hot broiler for 5-10 minutes until the meringue is lightly browned in places.
14. Remove and leave to cool.


SERVING
15. Place the pie on a serving plate and serve it warm or chill well before serving if you like.
16. Slice into equal size wedges and use a pastry slicer to serve onto individual plates.