»

Recipes

»

Jam

»

Sour Cherry And Pineapple Jam
Sour Cherry and Pineapple Jam Recipe
Sour Cherry and Pineapple Jam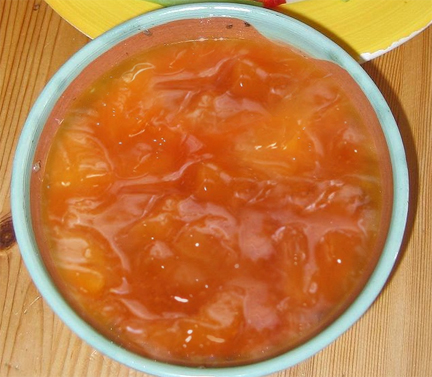 Ingredients
Cherries

2 Pound

Crushed pineapple

1 1⁄4 Pound

Sugar

1 Pound

(2 Cup)
Nutrition Facts
Serving size: Complete recipe
Calories 2677 Calories from Fat 15
% Daily Value*
Total Fat 2 g2.8%
Saturated Fat 0.34 g1.7%
Trans Fat 0 g
Cholesterol 0 mg
Sodium 0 mg
Total Carbohydrates 689 g229.6%
Dietary Fiber 24.1 g96.2%
Sugars 649.5 g
Protein 15 g29.2%
Vitamin A 11.6% Vitamin C 205.8%
Calcium 12.2% Iron 18.4%
*Based on a 2000 Calorie diet
Directions
GETTING READY
1) Pit the cherries and place in a bowl.

MAKING
2) Combine the crushed pineapple with the cherries.
3) Grind the fruits through a coarse blade of food grinder.
4) In a saucepan, combine the gruits with sugar.
5) Boil to 230°F on a candy thermometer, or until the mixture is thick and clear.
6) Ladle the 6 oz jam into hot, sterilized glasses and seal immediately.

SERVING
7) Use the Sour Cherry and Pineapple Jam as required.