»

Recipes

»

Cheese

»

Souper" Cheese & Celery Souffle
Souper" Cheese & Celery Souffle Recipe
This 'Souper" Cheese & Celery Souffle is a very quick and inexpensive meal to make and serve. Do not be taken aback coz I told this 'Souper" Cheese & Celery Souffle comes within budget, believe me, this recipe is no less than any of those complicated expensive souffles! So give it a try and be ready to win comments and priases.
Cheese and Celery Souffle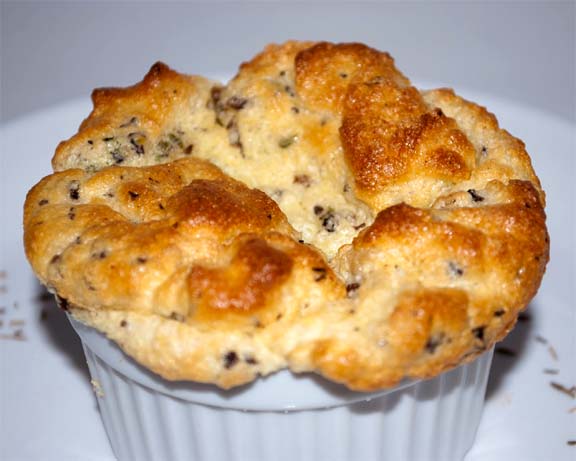 Ingredients
1 can condensed cream of celery soup

Shredded sharp Cheddar cheese

1 Cup (16 tbs)

Onion

2 Tablespoon

, minced

Celery

2 Tablespoon

, minced

2 teaspoons original Worcestershire sauce

2 tablespoons finely chopped celery leaves

Eggs

6

, separated

Cream of tartar

1/2 Teaspoon
Directions
Make a 4 inch wide band of triple thickness aluminum foil 2 inches longer than the circumference of a 2 quart souffle dish; wrap band around top of dish height of dish is raised.
Butter inside of dish and foil; set aside.
Combine soup, cheese, onion and celery in a small saucepan; cook, stirring over low heat, until cheese is melted.
Remove from heat; stir in original Worcestershire sauce and celery leaves.
Set aside.
Beat egg whites and cream of tartar in a large mixing bowl until stiff but not dry.
Beat egg yolks in a small mixing bowl until thick and light in color.
Stir yolks into cheese mixture.
Stir one fourth of the egg whites into the cheese mixture; fold remaining egg whites into cheese mixture.
Pour into the prepared souffle dish; bake in preheated 350° F oven until a knife inserted into center comes out clean, 50 to 60 minutes.
Carefully remove foil from dish; serve souffle immediately.