»

Recipes

»

Soup

»

Soup From The Meuse
Soup From The Meuse Recipe
Try this version of amazingly delicious Soup From The Meuse recipe. An effortlessly prepared appetizer recipe; the Soup From The Meuse is a dish that you would surely love to talk about with us!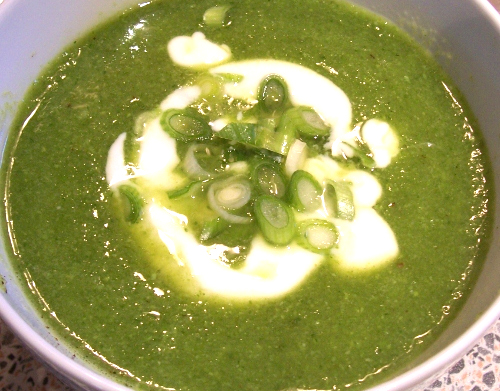 Ingredients
Butter

3 Tablespoon

1 head Boston lettuce, shredded

Scallions

4

, sliced

Stalk celery

1

, chopped

Water

6 Cup (16 tbs)

1/2 pound fresh green peas

1/2 pound cooked ham, in 1 piece

Thyme

1 Teaspoon

Bay Leaf

1

Salt

1/2 Teaspoon

black pepper

1

Milk cream

1/2 Cup (16 tbs)

2 tablespoons finely chopped chervil or parsley
Directions
Heat the butter in a large saucepan and saute the lettuce, scallions and celery slowly for 10 minutes.
Add water, peas, ham, thyme, bay leaf, salt and pepper.
Bring to a boil, lower the heat and simmer slowly for 1 hour.
Remove the ham and cut into small pieces.
Strain the broth and puree the vegetables in the blender.
Return the ham and pureed vegetables to the broth.
Add the cream and heat the soup thoroughly but do not boil.