»

Recipes

»

Soup

»

Sopa De Arroz Con Garbanzos
Sopa De Arroz Con Garbanzos Recipe
Sopa De Arroz Con Garbanzos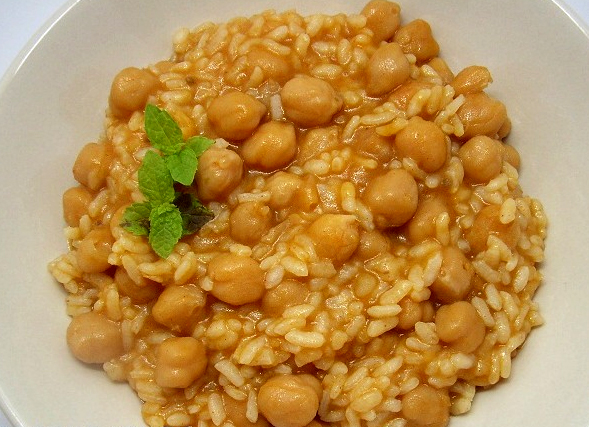 Ingredients
Bacon drippings

2 Tablespoon

Uncooked long grain rice

1 Cup (16 tbs)

Onion

1 Medium

, finely chopped

Salt

1 Teaspoon

Black pepper

1⁄4 Teaspoon

Garlic

2 Clove (10 gm)

, minced

Canned tomatoes

1 1⁄4 Cup (20 tbs)

Canned chickpeas

2 1⁄2 Cup (40 tbs)

, drained

Water

1 Cup (16 tbs)
Nutrition Facts
Serving size: Complete recipe
Calories 1848 Calories from Fat 342
% Daily Value*
Total Fat 39 g59.5%
Saturated Fat 14.7 g73.3%
Trans Fat 0 g
Cholesterol 30.3 mg
Sodium 4326 mg180.3%
Total Carbohydrates 329 g109.6%
Dietary Fiber 36.5 g145.9%
Sugars 8.8 g
Protein 50 g100.3%
Vitamin A 47% Vitamin C 117.7%
Calcium 38.9% Iron 81.6%
*Based on a 2000 Calorie diet
Directions
1 Heat the drippings in a large heavy skillet over medium-high heat. Add the rice and brown it until rice is uniformly golden. Add the onion and saute until onion is translucent.
2 Add the seasonings, garlic, tomatoes and chick-peas. Add enough water to cover the rice well.
3 Reduce the heat, cover, and simmer for about 30 minutes, or until rice is done. Do not stir while rice is cooking. If necessary, add additional liquid but do so carefully; pour the water against the side of the pan so as not to disturb the rice mixture. This trick assures fluffy Mexican rice and prevents gumminess.