»

Recipes

»

Molasses

»

Soft Spice Molasses Cookies
Soft spice molasses Cookies Recipe
Soft spice molasses Cookies are soft, spiced, chewy rounds. These go very well with tea and coffee. You can make them in winters, the spices make them healthy for the season. Soft spice molasses cookies are flavorful and good for a quick snack.
Molasses Spice Cookies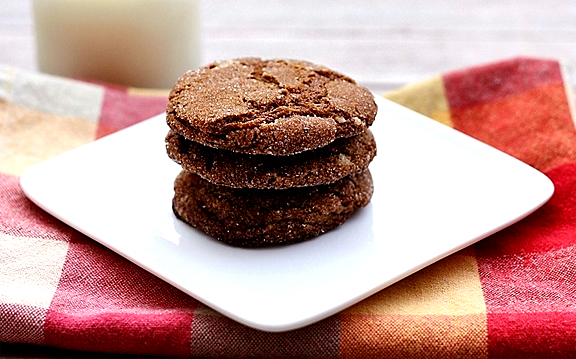 Ingredients
Shortening

1 Cup (16 tbs)

Sugar

2 Cup (32 tbs)

Molasses

1 Cup (16 tbs)

Eggs

2

All-purpose flour

5 Cup (80 tbs)

, sifted

Salt

2 Teaspoon

Baking soda

1 1⁄2 Teaspoon

Ginger

1 Teaspoon

Mace

1 Teaspoon

Cinnamon

2 Teaspoon

Cloves

1⁄2 Teaspoon

Sour milk

1⁄2 Cup (8 tbs)

Seedless raisins

1 1⁄2 Cup (24 tbs)
Nutrition Facts
Serving size
Calories 388 Calories from Fat 102
% Daily Value*
Total Fat 12 g17.7%
Saturated Fat 3 g14.9%
Trans Fat 1.3 g
Cholesterol 21.1 mg
Sodium 318.6 mg13.3%
Total Carbohydrates 68 g22.8%
Dietary Fiber 1.7 g6.7%
Sugars 38.2 g
Protein 5 g9.6%
Vitamin A 0.6% Vitamin C 0.74%
Calcium 7.2% Iron 14.9%
*Based on a 2000 Calorie diet
Directions
MAKING
1)In a bowl, beat together shortening, sugar and molasses until light and fluffy.
2)Add eggs and beat.
3)In another bowl, sift together flour, salt, soda, ginger, mace, cinnamon and cloves.
4)Mix it with creamed mixture alternately with sour milk. Beat well.
5)Add raisins and stir well.
6)Take a greased baking sheet and drop spoonsful of batter on it.
7)Bake at 375 degrees for 15 minutes.

SERVING
8)Serve soft spice molasses cookies when desired.