»

Recipes

»

Cookie
Soft Molasses Drop Cookies Recipe
Molasses Drop Cookies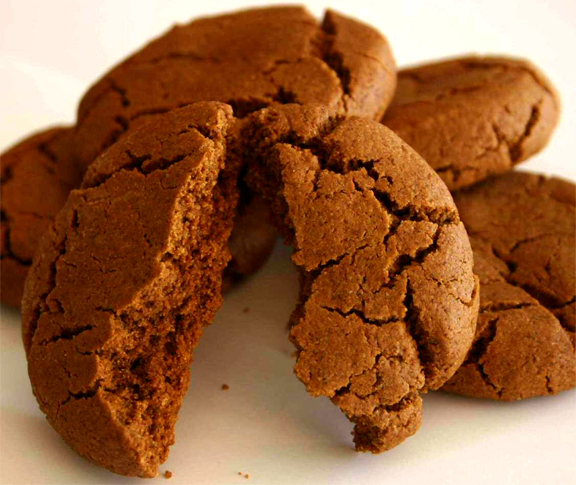 Ingredients
| | | |
| --- | --- | --- |
| | Butter/Margarine / shortening | 1⁄2 Cup (8 tbs) |
| | Firmly packed brown sugar | 1⁄2 Cup (8 tbs) |
| | Egg | 1 |
| | Molasses | 1⁄2 Cup (8 tbs) |
| | Sifted flour | 1 1⁄2 Cup (24 tbs) |
| | Powdered ginger | 1 Teaspoon |
| | Powdered cinnamon | 1 Teaspoon |
| | Salt | 1⁄2 Teaspoon |
| | Baking powder | 1 1⁄2 Teaspoon |
| | Baking soda | 1⁄4 Teaspoon |
| | Vinegar | 1⁄2 Teaspoon |
| | Water | 1⁄4 Cup (4 tbs) |
Nutrition Facts
Serving size: Complete recipe
Calories 2513 Calories from Fat 866
% Daily Value*
Total Fat 99 g151.7%
Saturated Fat 59.8 g298.9%
Trans Fat 0 g
Cholesterol 453.4 mg
Sodium 2085.2 mg86.9%
Total Carbohydrates 390 g129.9%
Dietary Fiber 8.4 g33.4%
Sugars 204.4 g
Protein 27 g54.8%
Vitamin A 61.5% Vitamin C 0.9%
Calcium 113% Iron 112.4%
*Based on a 2000 Calorie diet
Directions
1. Start oven, set at Moderate, 350° F. Rub cookie sheets with margarine or shortening.
2. Cream the butter, margarine or shortening until light; gradually add the sugar, beating until smooth. Beat in the egg, then the molasses.
3. Sift the flour, spices, salt, baking powder and soda together. Combine the vinegar and water. Add dry ingredients alternately with the vinegar solution to the creamed mixture, beating well after each addition.
4. From a teaspoon drop the batter 1 inch apart on the cookie sheets; flatten each cookie with the back of a spoon or spatula dipped in cold water.
5. Bake cookies about 10 minutes, until delicately browned.