»

Recipes

»

Bread

»

Soda Bread With Raisins
Soda Bread with Raisins Recipe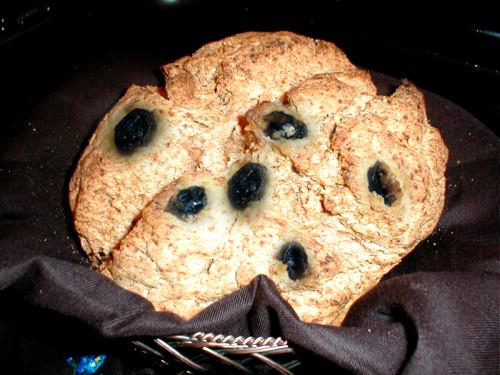 Ingredients
All purpose flour

3 Cup (48 tbs)

Sugar

1⁄4 Cup (4 tbs)

Baking powder

2 Teaspoon

Baking soda

1 Teaspoon

Salt

1⁄2 Teaspoon

Raisins

1 Cup (16 tbs)

Fruit

1⁄2 Cup (8 tbs)

, candied

Buttermilk

1 1⁄4 Cup (20 tbs)

Vegetable oil

2 Tablespoon
Nutrition Facts
Serving size: Complete recipe
Calories 2522 Calories from Fat 322
% Daily Value*
Total Fat 37 g56.4%
Saturated Fat 4.6 g22.9%
Trans Fat 0 g
Cholesterol 0 mg
Sodium 3153.6 mg131.4%
Total Carbohydrates 501 g167%
Dietary Fiber 17.6 g70.5%
Sugars 162.9 g
Protein 56 g112%
Vitamin A 4.1% Vitamin C 31.7%
Calcium 89.2% Iron 121.8%
*Based on a 2000 Calorie diet
Directions
Preheat oven to 375°F.
Grease a baking sheet.
In a bowl, stir together flour, sugar, baking powder, soda, and salt.
Stir in raisins and candied fruit.
In a mixing bowl, beat buttermilk with oil until blended.
Stir in flour mixture; beat until a soft dough forms.
Turn dough out onto a lightly floured surface.
Knead for 1 minute.
On prepared baking sheet, shape dough into a round loaf.
Bake for 4 minutes.