»

Recipes

»

Bread
Soda Bread Recipe
Soda Bread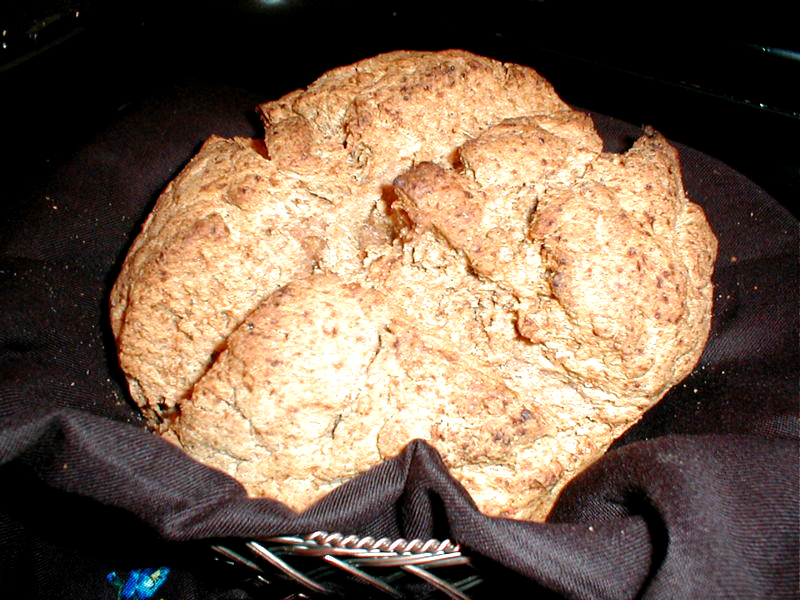 Ingredients
Sifted whole wheat flour

500 Gram

(Atta)

Refined flour

180 Gram

, sifted

Fine oatmeal

60 Gram

Sodium bicarbonate

2 Teaspoon

Salt

1⁄2 Teaspoon

Whey

650 Milliliter
Nutrition Facts
Serving size
Calories 578 Calories from Fat 15
% Daily Value*
Total Fat 3 g4%
Saturated Fat 0.51 g2.5%
Trans Fat 0 g
Cholesterol 2.6 mg
Sodium 813.9 mg33.9%
Total Carbohydrates 119 g39.7%
Dietary Fiber 4.5 g17.9%
Sugars 7.1 g
Protein 17 g33.5%
Vitamin A 0.3% Vitamin C 0.22%
Calcium 20.1% Iron 70.8%
*Based on a 2000 Calorie diet
Directions
GETTING READY
1. Preheat oven
2. Prepare baking sheet by dusting with flour

MAKING
3. Sift all the dry ingredients into a large bowl and mix well with your fingertips. Mound the flour in the center of the table and then nake a well in the centre and pour in the whey, a little at a time.
4. Pull the flour into the liquid so that the whey and flour are well blended. Knead lightly to make light, supple dough.
5. Break the dough ball into 2 portions and roll each into a slight oblong. Use a wet knife, to make a deep cross on the top about one-third of the way down into the dough.
6. Place on prepared baking sheet and bake in a hot oven for 40 minutes. The cooked loaf should sound hollow. Bake for a few minutes longer if not cooked. Set aside to cool

SERVING
7. Slice and serve warm or at room temperature with butter.