»

Recipes

»

Noodle

»

Soba Noodles With Ginger Sauce
Soba Noodles with Ginger Sauce Recipe
A great way to get your greens! This gingery dish just might help you get back into those jeans!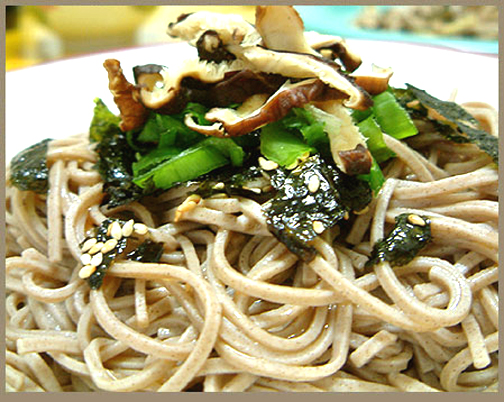 Summary
Preparation Time
25 Min
Cooking Time
25 Min
Ready In
50 Min
Difficulty Level
Easy
Health Index
Average
Servings
4
Ingredients
Fat free cholesterol free egg product

1⁄2 Cup (8 tbs)

Soba noodles/Uncooked vermicelli

8 Ounce

(buckwheat)

Frozen sweet peas

1 Cup (16 tbs)

(from 1 pound bag)

Soy sauce

3 Tablespoon

Lemon juice

2 Tablespoon

Vegetable oil

1 Tablespoon

Chopped ginger root

2 Teaspoon

(chopped finely)

Red pepper sauce

1⁄8 Teaspoon

Garlic

1 Clove (5 gm)

Shredded spinach leaves

1 Cup (16 tbs)
Nutrition Facts
Serving size
Calories 281 Calories from Fat 38
% Daily Value*
Total Fat 4 g6.7%
Saturated Fat 0.6 g3%
Trans Fat 0 g
Cholesterol 0.01 mg
Sodium 1176 mg49%
Total Carbohydrates 50 g16.7%
Dietary Fiber 1.9 g7.7%
Sugars 2.1 g
Protein 14 g28.1%
Vitamin A 32.5% Vitamin C 21.3%
Calcium 4.2% Iron 14.3%
*Based on a 2000 Calorie diet
Directions
1. Spray 10-inch nonstick skillet with cooking spray; heat over medium heat. Pour 1/4 cup of the egg product into skillet; rotate skillet to cover bottom. Cook about 1 minute or until egg product is set. Roll up cooked egg; remove from skillet and cool. Repeat with remaining egg product.
2. Cook noodles as directed on package, adding peas for last 3 minutes of cooking; drain.
3. In large bowl, mix soy sauce, lemon juice, oil, gingerroot, pepper sauce and garlic clove until well blended. Finely shred egg rolls. Add shredded egg rolls, noodles, peas and spinach to mixture in bowl; stir gently until evenly coated.