»

Recipes

»

Indian

»

Papdi

»

Snow Peas Curry Or Surti Papdi Curry
Snow Peas curry or Surti Papdi curry Recipe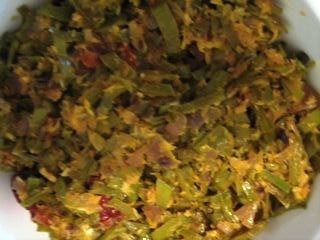 Ingredients
| | | |
| --- | --- | --- |
| | Snow peas | 150 Gram |
| | Onion | 2 Medium |
| | Tomato | 1 Small |
| | Turmeric powder | 1⁄2 Teaspoon |
| | Grated coconut/Desiccated coconut | 1 1⁄2 Tablespoon |
| | Red chilies | 4 |
| | Mustard seeds | 1⁄4 Teaspoon |
| | Urad dal | 1⁄4 Teaspoon |
| | Oil | 1 Tablespoon |
| | Salt | To Taste |
| | Water | 1 1⁄2 Cup (24 tbs) |
Nutrition Facts
Serving size
Calories 246 Calories from Fat 105
% Daily Value*
Total Fat 12 g18.6%
Saturated Fat 4.5 g22.5%
Trans Fat 0 g
Cholesterol 0 mg
Sodium 212.1 mg8.8%
Total Carbohydrates 32 g10.5%
Dietary Fiber 7.8 g31.1%
Sugars 14.8 g
Protein 6 g11.8%
Vitamin A 28% Vitamin C 159.1%
Calcium 9.7% Iron 17.7%
*Based on a 2000 Calorie diet
Directions
1)cut the snow peas into small pieces

2)cut the onions into small pieces

3)Cut tomatoes into small pieces

4)Heat oil in a kadai, add mustard seeds, urda dal, red chillies and do the seasoning.

5)Add the finely cut snow peas to it and saute for sometime

6)Then add turmeric powder, salt, water and allow it to cook till the water is completly drained

7)Garnish it with coconut

G.B. says :
This recipe is poorly constructed and vague. Unfortunately I believe it had potential, but not as written. Also the amount of spices is insufficent.
Posted on:
22 March 2012 - 10:06pm
Hey G.B, Indian food has two faces, 1 is the restaurant food, that is nowhere close to what we eat at home and the 2 the home food, or our staple if I may say, is entirely different. This recipe is exactly how we eat our veggies at home. You can check with your Indian friends, the 4 most used spices at home are Cumin Seeds, Turmeric Powder, Chilies (Fresh, Dried or Powdered) and Coriander Powder. In fact for many dishes like Dal(Lentil Curry) even Coriander Powder is avoided. We do eat spicy food, but not everything we eat daily consists of all the spices. Specially if you add a lot of spices to a vegetable, the flavor of the vegetable will be dominated by the spices. So to enjoy the mild flavor of vegetables, we have to keep the spices in moderation. I hope this info helps in judging the recipe.
Posted on:
23 March 2012 - 3:13am