»

Recipes

»

Corn

»

Snappy Corn Sticks
Snappy Corn Sticks Recipe
Savor these crispy buttered Snappy Corn Sticks with your favorite sauces for a snack this evening ! Tell me if you like them ! Your suggestions for these Snappy Corn Sticks are welcome !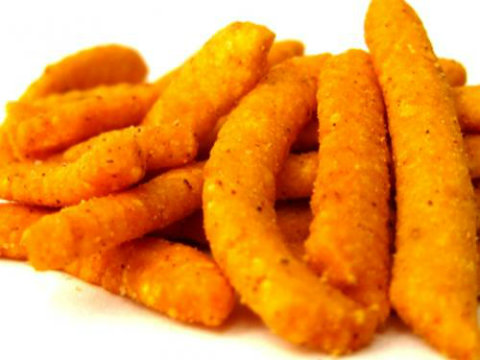 Ingredients
Frozen corn sticks

7 Ounce

Butter/Margarine

2 Tablespoon

, melted

Liquid red pepper seasoning

3 Drop
Nutrition Facts
Serving size
Calories 36 Calories from Fat 36
% Daily Value*
Total Fat 4 g6.2%
Saturated Fat 2.6 g12.8%
Trans Fat 0 g
Cholesterol 10.8 mg
Sodium 0.55 mg0.02%
Total Carbohydrates 0 g0%
Dietary Fiber 0 g0%
Sugars 0 g
Protein 0.04 g0.09%
Vitamin A 2.5% Vitamin C 0.04%
Calcium 0.1% Iron 0.01%
*Based on a 2000 Calorie diet
Directions
Mix butter or margarine with liquid red pepper seasoning in a cup; brush over corn sticks.
Heat corn sticks in toaster, following label directions.
Wrap sticks in foil; keep warm until ready to serve.