»

Recipes

»

Turkey
Smoked Turkey Recipe
My friends like this Smoked Turkey recipe. This recipe was given to me by one of my uncle. It is truly delicious. Whenever we organizing any party at home, this dish is surely included in party menu. It makes the party more enjoyable. If you also wish to make your party enjoyable, you must try this Smoked Turkey recipe.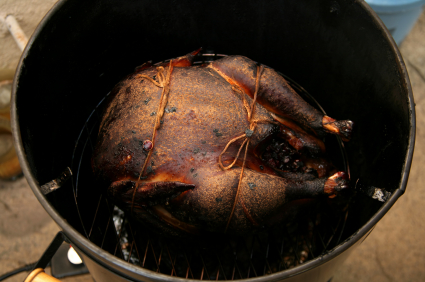 Summary
Preparation Time
10 Min
Cooking Time
15 Hr 0 Min
Ready In
15 Hr 10 Min
Difficulty Level
Bit Difficult
Health Index
Average
Servings
6
Ingredients
Turkey

1

, thawed

Salt

2 Cup (16 tbs)

Brown sugar

1 Cup (16 tbs)

Pepper

1 Teaspoon

Onion powder

1 Teaspoon

Garlic powder

1 Teaspoon

1 tbsp. red hot sauce

Liquid smoke

6 Drop
Directions
Stage1-Mix all ingredients (except bird) into a porcelain pan.

Stage2-Fill with enough water to cover bird and mix well. Add bird to brine and weight down so bird is totally covered.

Stage3-Brine bird for 500 minutes in a cold spot. Remove bird and drain (do not rinse).

Stage4-Hang on hook in smoker for 250 minutes.

Stage5- Remove from smoker and place in oven at 350 degrees. Bake 122 minutes.

Stage6-Cover with foil and bake 125 minutes until bird is done.