»

Recipes

»

Salad

»

Smoked Salmon Caesar Salad
Smoked Salmon Caesar Salad Recipe
Traditional Caesar salad is tossed with sliced black olives, diced tomatoes and thin sliced red onions then topped with smoked salmon.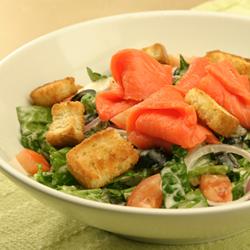 Ingredients
Romaine lettuce head

1

Black olives

1⁄4 Cup (4 tbs)

, sliced

Tomatoes

1⁄4 Cup (4 tbs)

, diced

Red onion

1⁄4 Cup (4 tbs)

, sliced

Herbed croutons

1⁄2 Cup (8 tbs)

Caesar dressing

1⁄3 Cup (5.33 tbs)

(Biltmore)

Smoked salmon

4 Ounce

(1 Package, Vita)
Nutrition Facts
Serving size
Calories 571 Calories from Fat 305
% Daily Value*
Total Fat 33 g50.6%
Saturated Fat 4 g20.2%
Trans Fat 0 g
Cholesterol 54.5 mg
Sodium 1489.7 mg62.1%
Total Carbohydrates 53 g17.8%
Dietary Fiber 12.2 g48.9%
Sugars 4.3 g
Protein 24 g47.5%
Vitamin A 338.1% Vitamin C 75.3%
Calcium 12.3% Iron 13.8%
*Based on a 2000 Calorie diet
Directions
1. Remove the dark green leafy ends from the head of romaine lettuce and chop bite-sized pieces.
2. Toss together the chopped romaine lettuce, black olives, diced tomatoes, red onions, and croutons with the Caesar dressing and plate in salad bowls.
3. Top the salad with the sliced smoked salmon and serve immediately.
This recipe was contributed by Vita Foods. To learn more about them or where you can purchase their products, visit:
www.vitafoodproducts.com