»

Recipes

»

Lamb

»

Smoke Barbecued Leg Of Lamb With Mint Barbecue Sauce
Smoke Barbecued Leg of Lamb with Mint Barbecue Sauce Recipe
This Smoke Barbecued Leg of Lamb with Mint Barbecue Sauce is a wholesome treat dedicated to a true meat-lover. This version of Smoke Barbecued Leg of Lamb with Mint Barbecue Sauce is so full of hearty ingredients and is also relatively quick and simple to make.
Smoke Barbecued Leg Of Lamb With Mint Barbecue Sauce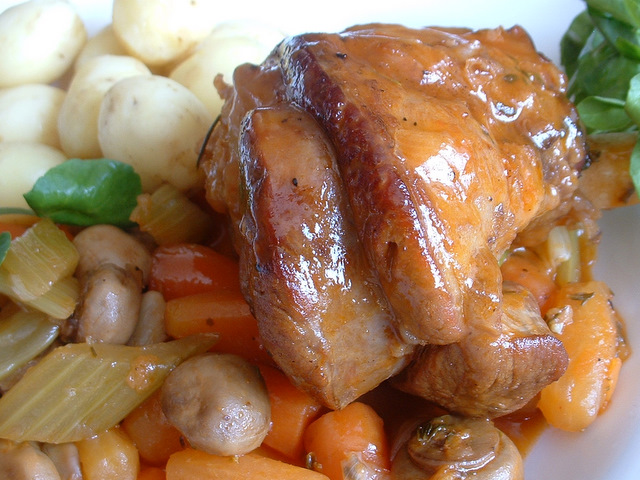 Ingredients
Leg of lamb

9 Pound

Garlic

1 Clove (5 gm)

, minced

Onion

1

Olive oil

2 Tablespoon

Lemon rind

2 Tablespoon

, grated

Lemon juice

1⁄2 Cup (8 tbs)

Mint sprig

3

Mint jelly

2 Tablespoon

Prepared "herbs for salad

1 Teaspoon

Combined minced herbs

3 Teaspoon

(Thyme, Tarragon, Rosemary, Marjoram)

Brown sugar

3 Tablespoon

(Reduce To 2 Tablespoons If Mint Jelly Is Used)

Salt

2 Teaspoon

Ground black pepper

1 Teaspoon
Nutrition Facts
Serving size: Complete recipe
Calories 8209 Calories from Fat 4519
% Daily Value*
Total Fat 502 g771.7%
Saturated Fat 203.7 g1018.3%
Trans Fat 0 g
Cholesterol 2735.1 mg
Sodium 6370.1 mg265.4%
Total Carbohydrates 101 g33.5%
Dietary Fiber 8.3 g33.3%
Sugars 70.8 g
Protein 779 g1557.9%
Vitamin A 19% Vitamin C 189.2%
Calcium 42.3% Iron 408.3%
*Based on a 2000 Calorie diet
Directions
GETTING READY
1. In a large saucepan, prepare the sauce by sautéing the garlic and onion for 2 minutes in olive oil and then add the rest of the ingredients to simmer for 3 minutes.
2. Have fire ready in smoke cooker (it takes about 25 minutes to kindle charcoal briquets.)
3. Transfer lamb with pan to rack over the fire, close the hood, adjust vents half open and cook for 21/2 to 3 hours.

MAKING
4. Wash the lamb and prepare it for roasting as usual.
Wrap the heavy duty aluminum wrap to form an envelope to fit lamb, turning up edges of foil 1 inch all around and mitering the corners to form a large envelope
5. Brush the lamb on all sides with the sauce and place it in the envelope. Let stand at room temperature for an hour or longer brushing again with the sauce. Roast in a preheated oven. While cooking insert a meat thermometer inserted in the thickest part of the roast not touching the bone, should register (175°F.) when the meat is done. Baste several times during the roasting. When done, transfer meat to a warm carving board.
6. Add any leftover barbecue sauce to drippings in the pan with boiling water, if necessary.
7. Stir and cook to dissolve browned drippings and serve with the lamb.

SERVING
8. Serve the meat with the barbeque sauce with mashed potatoes and a fresh salad

TIP
To get a smoky taste to the meat, throw damp hickory chips or green twigs of wild cherry, apple or other savory wood on the fire about 1 hour before roasting is finished.