»

Recipes

»

Soup

»

Pea Soup

»

Slow-Cooker Split Pea Soup With Ground Turkey
Slow-Cooker Split Pea Soup with Ground Turkey Recipe
A tasty & creamy bowl of comfort goodness!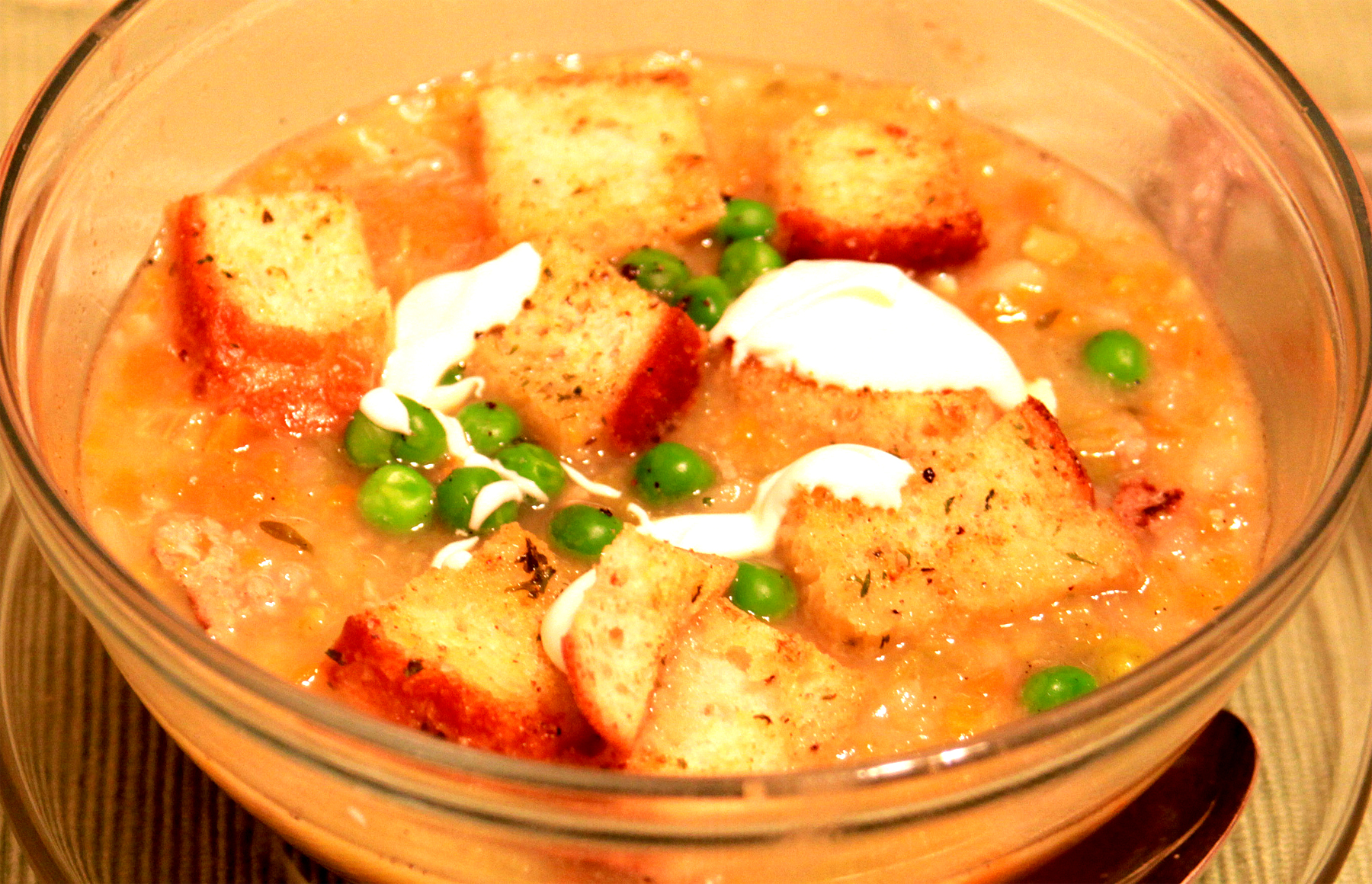 Ingredients
Ground turkey

1/4 Pound

Onion

1 Cup (16 tbs)

, chopped

Garlic

2 Clove (5gm)

, finely chopped

Red pepper flakes

1/2 Teaspoon

Thyme sprig

3

Bay leaves

2

Medium

2 Cup (16 tbs)

, diced

Russet potatoes

1 Cup (16 tbs)

, peeled

Celery stalks

1 Cup (16 tbs)

, diced

Green peas

1 pound

, rinsed

Frozen peas

1/2 Cup (16 tbs)

, garnish

3 cups Chicken or Vegetable Stock

Stock

2 Cup (16 tbs)

1-1/2 teaspoons Kosher or Sea Salt, plus more for Turkey

1 teaspoon freshly ground Black Pepper, plus more for Turkey
Directions
Salt & Pepper your ground turkey to taste. Form it into a hamburger patty and grill or fry it until medium rare, about 4-5 minutes per side. Set aside and allow to cool.
Tie the thyme and bay leaves together in kitchen twine and place it, along with all the other ingredients, including the turkey patty, into a slow cooker for about 6 to 8 hours on low until the peas and veggies are tender.
Discard the herb bundle. Remove the turkey patty and chop it into small pieces. Set aside.
Using an emersion blender purée about half the soup; OR carefully place half the soup (in batches) into a blender or food processor and purée until smooth. Pour the purée and ground turkey back in with the remaining soup. Gently stir to combine.
Ladle into bowls, garnish with a few whole peas, croutons or oyster crackers, or perhaps crispy tortilla strips and a dollop of Greek yogurt or sour cream.