»

Recipes

»

Turkey

»

Sloppy Joes Ole!
Sloppy Joes Ole! Recipe
Sloppy Joes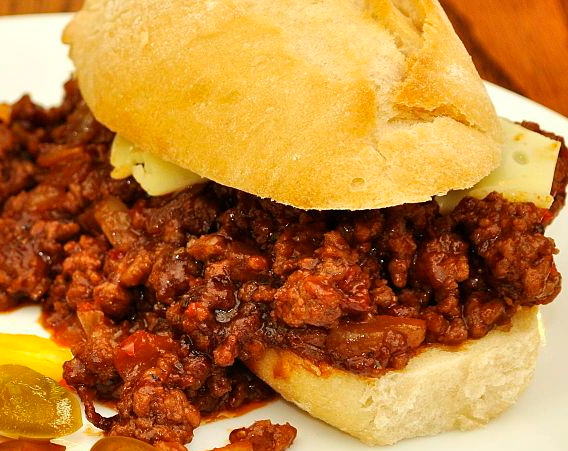 Ingredients
Onion

1 Cup (16 tbs)

, chopped

Celery

1 Cup (16 tbs)

Sweet green pepper - 1 cup, finely diced

Vegetable oil

1 Tablespoon

Garlic - 1 large clove, finely chopped

Ground turkey

1 pound

, uncooked

Chili powder

2 Tablespoon

Ground cumin

1/2 Teaspoon

Leaf oregano - 1/2 teaspoon, crumbled

Basil leaf

1/2 Teaspoon

, crumbled

Thyme leaf

1/4 Teaspoon

, crumbled

Salt

1 Teaspoon

Pepper

1/4 Teaspoon

Worcestershire sauce

2 Tablespoon

Tomato sauce

1 Can (10oz)

Water

3/4 Cup (16 tbs)

Hamburger buns

8
Directions
MAKING
1) Take a medium size heavy skillet and heat oil in it. Add celery, onion and green pepper to the oil. Saute for about 5 minutes. Add garlic and cook for another 1 minute.
2) Crumble in the turnkey and saute the mixture for about 2 minutes or until half-cooked.
3) Add cumin, chili powder, oregano, thyme, basil, pepper and salt. Cook for about 3 minutes or until meat is thoroughly cooked,
4) Add tomato sauce, Worcestershire sauce and water. Boil over medium heat. Reduce temperature and simmer for about 30 minutes or until adequately thickened, stirring constantly.

SERVING
5) Place about 1/2 cup filling inside each bun and serve hot!