»

Recipes

»

Wine

»

Slices Of Beef In Wine Aspic
Slices of Beef In Wine Aspic Recipe
Slices of Beef In Wine Aspic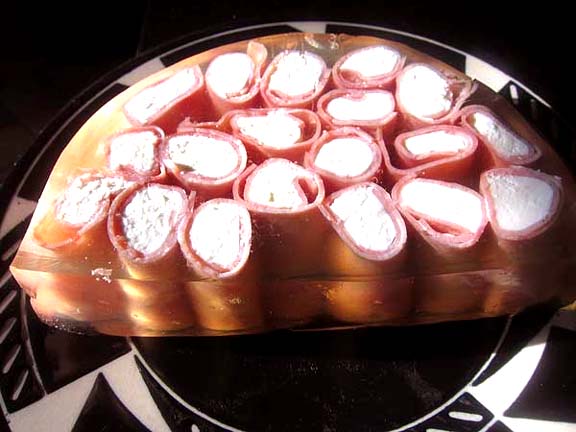 Ingredients
Oil

3 Tablespoon

Beef tenderloin roast

4 Pound

, tied into a neat cylindrical shape

Lightly jellied veal stock

3 Cup (48 tbs)

Medium bodied red wine

1 1⁄2 Cup (24 tbs)

Dry madeira

1 1⁄2 Cup (24 tbs)

(Sercial)

Bay leaves

2 Small

, torn

Fresh parsley sprig

2

Fresh rosemary sprig

1 Small

Unflavored gelatin

2 1⁄2 Teaspoon

Green peppercorns

3 Tablespoon

Chicory/Lettuce and fresh herb leaves / small sprigs

2 Ounce

(For Garnish)
Nutrition Facts
Serving size: Complete recipe
Calories 5701 Calories from Fat 3318
% Daily Value*
Total Fat 369 g568.4%
Saturated Fat 135.6 g678%
Trans Fat 0 g
Cholesterol 1215 mg405%
Sodium 3265.2 mg136.1%
Total Carbohydrates 39 g13.1%
Dietary Fiber 5 g19.9%
Sugars 7 g
Protein 378 g756.8%
Vitamin A 72.5% Vitamin C 30.2%
Calcium 51.9% Iron 195.3%
*Based on a 2000 Calorie diet
Directions
Heat the oil in a roasting pan on top of the stove, add the beef and sear evenly all over.
Transfer to a preheated 425° oven and roast for 45-60 minutes (the beef will be rare).
Using tongs, transfer the beef to a cooling rack with a baking tray placed underneath.
Leave to cool completely.
When cold, cut the beef into 1/2-3/4-inch thick slices.
Boil the stock, wine and Madeira with the herbs until reduced by half.
Dissolve the gelatin in 1 1/2 tablespoons of water in a bowl placed over a saucepan of hot water.
Remove the bowl from the saucepan.
Remove the herbs from the reduced liquid and slowly stir the liquid into the gelatin.
Spoon a thin layer of this aspic over the bottom of ramekins or other similar small dishes, one for each slice of beef.
Chill until set.
Keep the remaining aspic liquid at room temperature.
Place about 1/2 teaspoon green peppercorns in the center of each dish on the layer of aspic.
Carefully place a slice of beef on top.
Spoon in sufficient aspic to surround and just cover each slice.
Chill until set.
Arrange a fine bed of shredded chicory on cold plates.
Unmold the beef aspics onto the plates and garnish with leaves or small sprigs of fresh herbs.