»

Recipes
Skillet Cornbread Recipe
Skillet Cornbread has a fine taste. Skillet Cornbread gets its taste from cornmeal mixed with eggs and buttermilk. Skillet Cornbread is inspired by many bakeries around the world.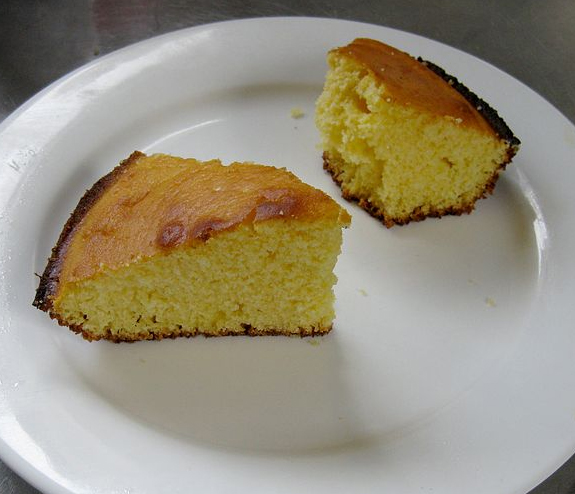 Ingredients
Cornmeal

2 Cup (32 tbs)

Baking powder

2 Teaspoon

Baking soda

1 Teaspoon

Salt

3⁄4 Teaspoon

Eggs

2

, beaten

Buttermilk

2 Cup (32 tbs)

Vegetable oil

2 Tablespoon
Nutrition Facts
Serving size: Complete recipe
Calories 1773 Calories from Fat 482
% Daily Value*
Total Fat 55 g84.4%
Saturated Fat 8.6 g43.1%
Trans Fat 0 g
Cholesterol 423 mg
Sodium 3862.8 mg160.9%
Total Carbohydrates 270 g89.9%
Dietary Fiber 23.4 g93.5%
Sugars 2.8 g
Protein 57 g113.4%
Vitamin A 9.9% Vitamin C
Calcium 80.9% Iron 77.8%
*Based on a 2000 Calorie diet
Directions
Combine cornmeal, baking powder, soda, and salt in a large bowl; add eggs,buttermilk, and oil, stirring just until dry ingredients are moistened.
Place a well greased 10 inch cast iron skillet in a 450° oven for 4 minutes or until hot.
Remove from oven; spoon batter into skillet.
Bake at 450° for 25 minutes or until lightly browned.
Image Courtesy :
http://commons.wikimedia.org/wiki/File:Piece_of_cornbread_on_plate.jpg