»

Recipes

»

Muffin

»

Simple Sundays | Chocolate Banana Muffins
Simple Sundays | Chocolate Banana Muffins Recipe
Check out my blog: http://kitchenconfidante.com/simple-sundays-chocolate-banana-muffins-recipe For the full recipe, photos, and story behind what makes these so special!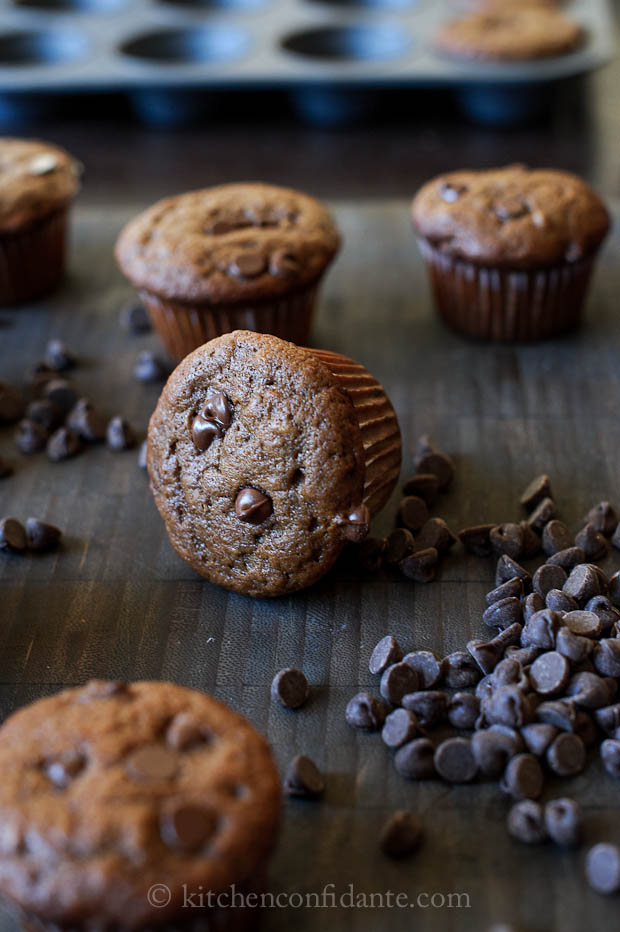 Ingredients
Eggs

2

Flour

3 Cup (48 tbs)

Salt

1⁄2 Teaspoon

Baking powder

1 1⁄2 Teaspoon

Baking soda

1 1⁄2 Teaspoon

Copped pecans

1⁄2 Cup (8 tbs)

(optional)

Sugar

2 Cup (32 tbs)

Unsalted butter

1⁄2 Cup (8 tbs)

Buttermilk/1 cup milk w/ juice of 1 lemon

1 Cup (16 tbs)

Bananas

5 Medium

(5-6 VERY ripe bananas)

Chocolate chips

1 1⁄4 Cup (20 tbs)

(divided)
Nutrition Facts
Serving size
Calories 487 Calories from Fat 148
% Daily Value*
Total Fat 17 g26.3%
Saturated Fat 7.3 g36.3%
Trans Fat 0 g
Cholesterol 56.7 mg
Sodium 362 mg15.1%
Total Carbohydrates 80 g26.7%
Dietary Fiber 2.4 g9.5%
Sugars 45.2 g
Protein 7 g13.2%
Vitamin A 6.4% Vitamin C 6.1%
Calcium 6.3% Iron 10.6%
*Based on a 2000 Calorie diet
Directions
Directions:
1. Preheat oven to 350 degrees. Prepare two muffin pans with cupcake liners.
2. Sift or whisk flour, salt, baking powder and baking soda. Add pecans if using, then set aside. In a separate bowl, cream sugar and butter. Mix in eggs, one at a time, then add the bananas.
3. Melt 3/4 cup chocolate chips in microwave or double boiler. If using a microwave, melt the chocolate in 20 second bursts, stirring between.
4. Add dry ingredients and buttermilk, to egg mixture, alternating until incorporated. Try to end with the dry ingredient addition, and be sure not to over mix. Slowly stir in melted chocolate. Fill each muffin tin 3/4 full, then top with remaining chocolate chips.
5. Bake muffins for about 18 minutes or until an inserted toothpick comes out clean.