»

Recipes

»

Spinach

»

Simple Steamed Spinach
Simple Steamed Spinach Recipe
There's no quicker food to prepare than steamed spinach. Once you have purchased the fresh leaves it is a simple matter to steam them- it barely takes minutes. The nutrient-rich greens pair well with just about any food, from eggs to soup. For more such healthy recipes and information on healthy eating options refer to Tosca Reno's Eat Clean Diet website.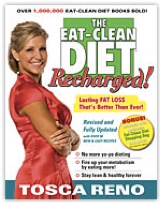 Summary
Preparation Time
5 Min
Cooking Time
5 Min
Ready In
10 Min
Difficulty Level
Very Easy
Ingredients
Spinach leaves/Kale swiss chard

2 Cup (32 tbs)

, washed and picked over (At Least 2 Cups Fresh Spinach Per Serving)

Low sodium chicken stock/Vegetable stock

1 Cup (16 tbs)

Extra virgin olive oil

1 Dash

Ground black pepper

1 Pinch

Sea salt

1 Pinch
Nutrition Facts
Serving size: Complete recipe
Calories 58 Calories from Fat 18
% Daily Value*
Total Fat 2 g3.1%
Saturated Fat 0.5 g2.5%
Trans Fat 0 g
Cholesterol 0 mg
Sodium 325.1 mg13.5%
Total Carbohydrates 6 g1.9%
Dietary Fiber 1.6 g6.3%
Sugars 0.6 g
Protein 7 g13.4%
Vitamin A 118.9% Vitamin C 29.9%
Calcium 7.5% Iron 13.4%
*Based on a 2000 Calorie diet
Directions
1. Place leaves in a large saucepan. Add broth and bring to a boil. Once boiling, reduce heat immidiately and cover. Cook until leaves are wilted- a matter of only a couple of minutes.
2. Drain and toss lightly in the saucepan with olive oil. Season with salt and pepper and serve hot.