»

Recipes

»

Bread

»

Simple Rye Bread
Simple Rye Bread Recipe
Rye Bread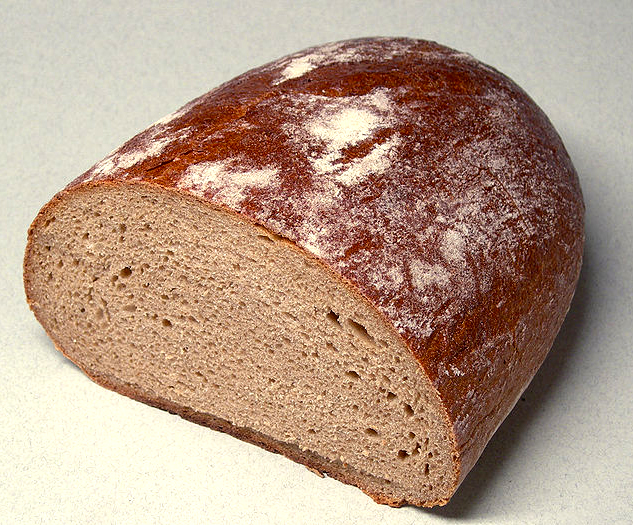 Ingredients
Milk

1 1⁄2 Cup (24 tbs)

, scalded

Honey

1⁄2 Teaspoon

Dry yeast

2 Tablespoon

Honey

2 1⁄2 Tablespoon

Salt

1⁄2 Tablespoon

Rye flour

1 Cup (16 tbs)

Whole wheat flour

2 1⁄2 Cup (40 tbs)

Whole wheat flour

1⁄3 Cup (5.33 tbs)

(For Kneading)
Nutrition Facts
Serving size: Complete recipe
Calories 1993 Calories from Fat 191
% Daily Value*
Total Fat 22 g33.9%
Saturated Fat 8 g40%
Trans Fat 0 g
Cholesterol 33.9 mg
Sodium 3078.5 mg128.3%
Total Carbohydrates 400 g133.2%
Dietary Fiber 74.4 g297.5%
Sugars 53.3 g
Protein 87 g174.6%
Vitamin A 7.8% Vitamin C 0.48%
Calcium 58.9% Iron 145.2%
*Based on a 2000 Calorie diet
Directions
Cool 1/4 cup hot milk and stir 1/2 teaspoon honey into it.
Soften yeast in this milk and honey mixture.
Combine remaining hot milk, honey and salt.
When this mixture is lukewarm, stir in yeast mixture and add both flours, reserving 1/3 cup whole wheat flour for kneading.
Knead for at least 5 minutes to develop gluten.
Place in oiled bowl, turning dough to coat surface.
Cover with damp towel and set in warm, draft-free place to rise for approximately 2 hours.
Punch down, knead briefly, shape into a round loaf, lightly oil surface of loaf and place on oiled cookie sheet.
Allow to rise almost double .
Place in a cold oven, turn oven to 325°F and bake for 1 to 1 1/4 hours or until inserted toothpick comes out clean.
Cool on wire rack.