»

Recipes

»

Garlic

»

Simmered Mushroom Trio With Garlic Crostini
Simmered Mushroom Trio with Garlic Crostini Recipe
This recipe is courtesy of Cooking Close To Home: A Year of Seasonal Recipes by Diane Imrie and Richard Jarmusz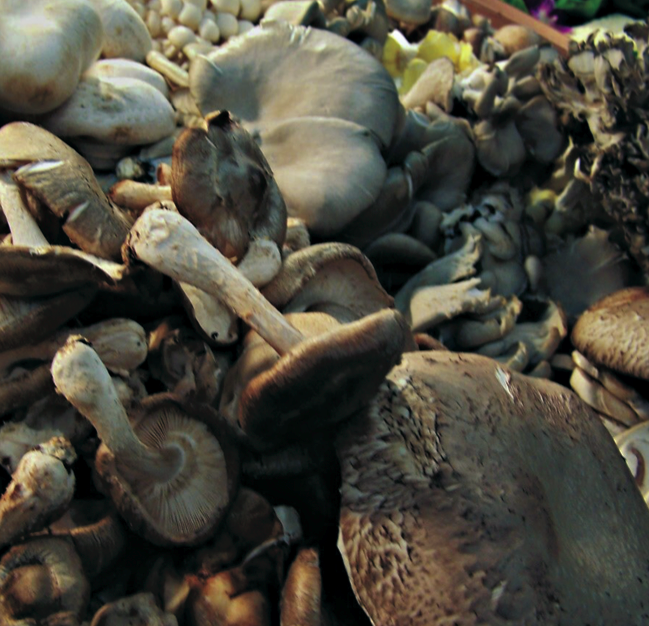 Ingredients
Dried porcini mushrooms

1 Teaspoon

, broken into small pieces

Dry white wine

1⁄4 Cup (4 tbs)

Olive oil

1 Tablespoon

Onion

1⁄2 Medium

, chopped

All purpose flour

2 Teaspoon

Garlic

1 Clove (5 gm)

, chopped

Assorted mushrooms

2 1⁄2 Cup (40 tbs)

, sliced (May Include Crimini, Shiitake, Oyster, Portabella Or Any Other Local Mushrooms)

Italian seasoning

1⁄2 Teaspoon

Chicken stock

1⁄4 Cup (4 tbs)

(Basic)

Garlic

1 Clove (5 gm)

, cut in half

Baguette

1⁄2

, cut into thin slices

Olive oil

1 Tablespoon

(For Drizzling)
Nutrition Facts
Serving size
Calories 197 Calories from Fat 72
% Daily Value*
Total Fat 8 g12.6%
Saturated Fat 1.2 g6.2%
Trans Fat 0 g
Cholesterol 0.45 mg
Sodium 272 mg11.3%
Total Carbohydrates 24 g7.9%
Dietary Fiber 1.2 g4.6%
Sugars 2.7 g
Protein 5 g10.3%
Vitamin A 0% Vitamin C 6.6%
Calcium 1.4% Iron 3.5%
*Based on a 2000 Calorie diet
Directions
1. In a small bowl soak the dried porcini mushrooms in the white wine for 15 minutes.
2. In a medium sauté pan heat the olive oil over medium-high heat, add the onions and sauté for approximately 5 minutes, or until soft. Add the flour, stirring to coat the onions, and cook for 2 minutes.
3. Add the chopped garlic and sauté another 30 seconds. Add the assorted mushrooms and Italian seasoning and cook for 10 minutes.
4. Add the stock and wine with soaked mushrooms, and continue to cook another 5 minutes, until most of the liquid has evaporated.
5. Rub the cut garlic clove on one side of each baguette slice. Toast the slices under the broiler for 5 minutes, or until slightly crisp and just browned. Place on individual plates, and drizzle with olive oil.
6. Pour the mushroom mixture on top of the bread slices, and serve.
For more seasonal recipes like this, you can purchase
Cooking Close to Home: A Year of Seasonal Recipes
by clicking
here
.